Updated on April 19, 2022
Bikepacking is bike touring minus the concrete, a combination of cross country riding and minimalist camping. You'll be riding everything from rough-surface roads to technical trails, staying on the bike for days in a row, and carrying everything you need. Meeting that challenge and keeping it fun requires the right tools, and if you're planning to join the bikepacking movement you'll want to do it on one of the best bikepacking bikes you can buy. This list should get you started!
For more of our top bikepacking gear recommendations, check out the Best Bikepacking Bags.
Quick Answer

-

The Best Bikepacking Bikes
Comparison Table

-

Best Bikepacking Bikes

For the best experience turn your device horizontally
Reviews

-

The Best Bikes for Bikepacking
Niner RLT 2-Star
Specs
Type

:

Cyclocross

Frame Material

:

Aluminum

Wheel Size

:

29"

Drivetrain

:

2x10
Features
Carbon Fiber Fork Dampens Vibration And Cuts Weight
26 Mounting Points For Bottles, Lights, Bags, Fenders, And Racks
20-Speed Shimano Drivetrain Delivers A Wide Gear Range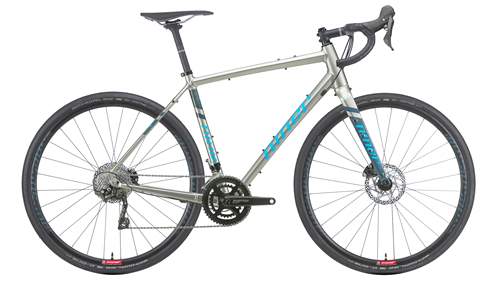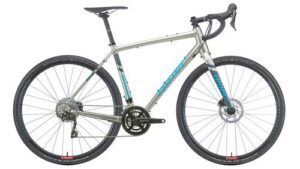 BEST VALUE CYCLOCROSS BIKEPACKING BIKE
Niner's RLT series was one of the first bikes to straddle the line between road and mountain, and the regularly updated models have become standards in the cyclocross and rough-road bikepacking communities. The RLT 2-Star is a basic, no-nonsense model that delivers function without frills and keeps the price at an accessible level.
The 2×10 gear Shimano drivetrain keeps shifting smooth and easy and gives you a range of gears to suit any gradient. Shimano hydraulic disc brakes give you effortless control of your braking so you never have to worry about a wildly out of control descent. This one is made for bikepacking: a total of 26 built-in attachment points let you hang bags, bottles, racks, and other accessories in any configuration you can think of. Load up and hit the trail!
Ibis Hakka MX Rival
Specs
Type

:

Cyclocross

Frame Material

:

Carbon Fiber

Wheel Size

:

29"

Drivetrain

:

1x11
Features
Carbon Fiber Frame Slashes Weight Without Compromising Strength
Premium SRAM Rival Drivetrain And Brakes For Top Performance
Huge Gear Range To Cope With Steep Climbs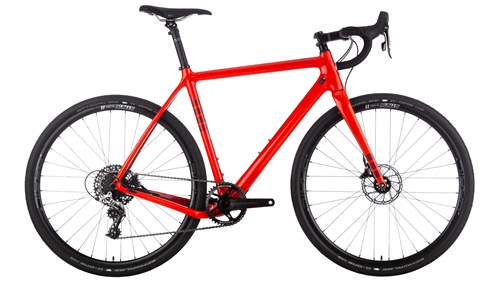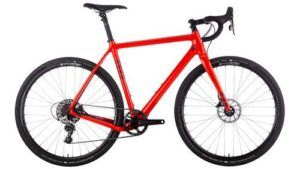 BEST CYCLOCROSS BIKEPACKING BIKE
There's a rumor on the Internet that the "MX" in this bike's name stands for "MonsterCross". Ibis just calls it their Swiss Army Knife. Either name is appropriate. This ultralight frame packs enough brawn for the rough stuff and carries a component set that's ready for anything. Reviewers report that it climbs like a cyclocross bike and descends like a mountain bike, even when loaded for a multiday trip. If you're looking for a lightweight drop-bar bike that's ready for serious off-road action, look no further!
Marin Pine Mountain 1
Specs
Type

:

Hardtail

Frame Material

:

Steel

Wheel Size

:

29"

Drivetrain

:

1x11
Features
RockShox Recon Fork Smooths Out Bumps
All Around Design For Either Distance Riding Or Technical Trails
Shimano Hydraulic Disc Brakes For Controlled Stopping Power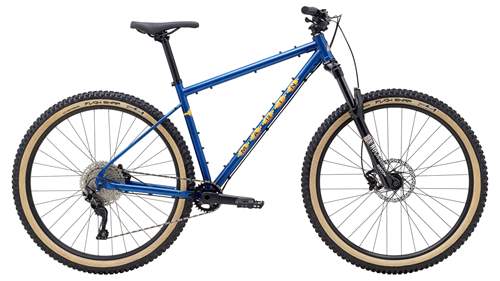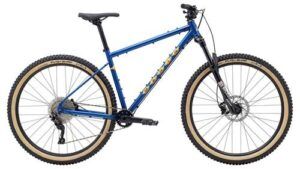 BEST BUDGET HARDTAIL BIKEPACKING BIKE
You're looking for a sturdy, capable bikepacking rig that can double up as an all-around mountain bike and fill in now and then as a stylish urban cruiser. You're also on a limited budget. You might think that's an impossible mission, but Marin has delivered just the bike you're looking for!
The steel frame soaks up vibration without compromising stiffness and the RockShox Recon suspension fork soaks up bumps and keeps your front wheel rigid with a sturdy through axle. An 11 speed Shimano drivetrain and hydraulic disc brakes round out an attractive component package. The bike is solid enough to carry loads and nimble enough for technical trail riding. Best of all, you can have the whole package without spending an arm and a leg.
Marin Gestalt 2
Specs
Type

:

Cyclocross

Frame Material

:

Aluminum

Wheel Size

:

29"

Drivetrain

:

1x11
Features
Carbon Fiber Fork Provides A Smooth Feel And Keeps The Bike Light
20 Speed Drivetrain Delivers A Huge Gear Range
Front And Rear Through Axles Keep Your Wheels Rigid And Strong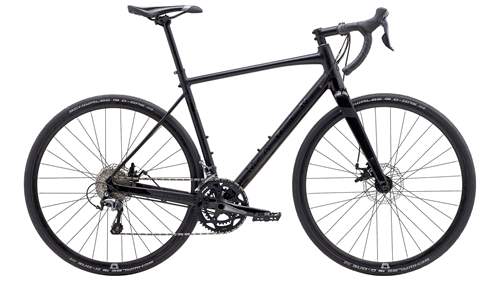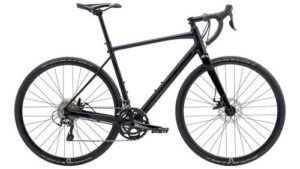 BEST BUDGET CYCLOCROSS BIKEPACKING BIKE
If your bikepacking routes are dominated by dirt or gravel roads, you're probably considering starting with a cyclocross rig rather than a mountain bike. These beefed-up road bikes are strong enough for serious abuse and designed to lay down serious mileage day after day. The Marin Gestalt 2 carries a solid, serviceable set of components designed to fit well together and deliver the performance you need without crippling your bank account. If you're leaning toward the cyclocross side and you want a quality budget-friendly rig, here it is.
Marin Rift Zone 2
Specs
Type

:

Suspension

Frame Material

:

Aluminum

Wheel Size

:

29"

Drivetrain

:

1x11
Features
Shimano Hydraulic Disc Brakes For Powerful, Consistent Stops
All-Purpose Frame Design Is Great For All Day Rides Or Technical Trails
Tubeless-Ready Wheels Allow An Easy Weight-Saving Upgrade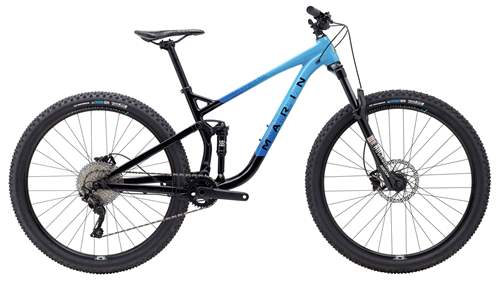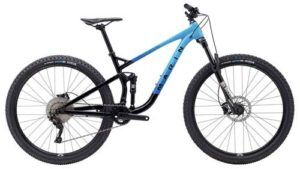 BEST BUDGET FULL SUSPENSION BIKEPACKING BIKE
Marin continues their dominance of the budget bracket with the Rift Zone 1, a bike that delivers solid full-suspension performance at a price that would be reasonable in a hardtail. This bike wasn't just slapped together to meet a price point, either. It's a well thought out rig with capable components that are ready for hard use.
The 29-inch wheels and the relatively low suspension travel tag this as a XC rig, and it's certainly ready for long fast rides on back roads or smooth flowing trails. It's also got a few tricks up its sleeve: in a decidedly modern twist, the front end is set up with a "slack" head tube angle that places the front wheel well out ahead of the bars, keeping you stable when the going gets steep. If you want a budget full suspension bike that's ready for either bikepacking or technical trails, Marin has it!
Niner MCR 9 RDO
Specs
Type

:

Full Suspension Cyclocross

Frame Material

:

Carbon Fiber

Wheel Size

:

29"

Drivetrain

:

2x11
Features
Handlebar-Mounted Controls Lock Out Suspension For Efficient Climbing
SRAM Rival 2x11 Drivetrain Gives A Wide Gear Range
Fixed Mounting Points For Bags, Bottles, And More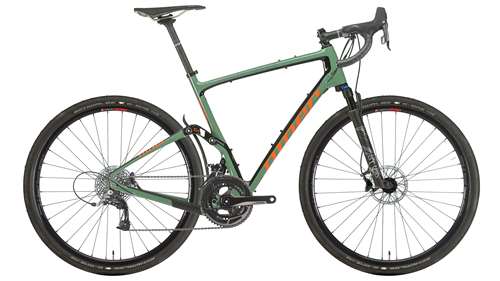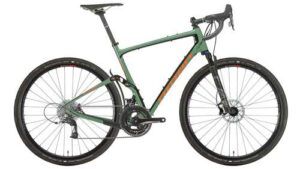 BEST ONE OF A KIND BIKEPACKING BIKE
This bike doesn't just cut across categories, it breaks the categories into tiny pieces and rides away leaving the old rules in the dust. It's a cyclocross-style drop-bar bike sporting short-travel front and rear suspension, giving just enough cushion to smooth the bumps and keep you comfortable day after day.
The suspension is tuned for high-frequency small bumps, not hucking drops, but that's just what most bikepackers need it to do. There's an abundance of attachment points for your load and a high-end component package led by SRAM's Rival drivetrain and Shimano hydraulic disc brakes. If you're looking at spending days in the saddle on unsealed roads and trails and you want a smooth, efficient bike with just a bit of cushion between you and the T, take a close look at this one!
THINGS TO CONSIDER WHEN BUYING A BIKEPACKING BIKE
Bikepacking spans a wide range of terrain and attracts riders from many different disciplines. The bikes used for bikepacking reflect that diversity. Riders focused on rough-surface roads and relatively smooth trails often opt for cyclocross bikes – road bikes on steroids that combine drop bars with wide tires and disc brakes to keep control on difficult terrain.
If you're looking at a wide range of terrain, a hardtail mountain bike makes a great choice. Bikepackers who hit technical trails have surmounted the challenge of racking loads on full suspension bikes and converted their favorite mountain bikes to bikepacking rigs. Even fat bikes are showing up on the bikepacking scene. Whatever your preference, you'll find options on the list above!
WHAT TYPE OF BIKE DO YOU NEED?
Bikepacking embraces a wide range of terrain and riding conditions and draws riders from many different disciplines. All of them look for bikes that can carry loads and negotiate rough terrain.
Mountain bikes are very well adapted to rough terrain, but it can be difficult to mount racks for large loads on mountain bikes, especially full suspension mountain bikes. Traditional racks that mount to the rear axle and the frame won't work because the rear of a full-suspension bike moves relative to the frame as the suspension compresses and decompresses. Racking bags on bikes with suspension can be tricky, as the bags can easily rub against tires or other moving parts as the suspension moves.
Rigid road bikes are better suited to carrying loads, but many traditional road bikes were not strong enough to carry the loads and navigate the rough surfaces that bikepacking trips traverse.
Fortunately, bikes evolve quickly, Road bikes evolved toward the rough side with the emergence of drop-bar cyclocross and gravel bikes, and manufacturers developed new racking systems that allowed bikes with suspension to carry loads efficiently. We now have a huge range of bikes to choose from, all of them suitable for bikepacking.
Most bikepacking bikes fall into four categories.
Cyclocross or Gravel bikes are road bikes beefed up to take on rough surfaces. Most have drop bars and rigid forks, like road bikes, but they tend to sport substantially stronger wheels with disc brakes and wide wheel rims that accept larger tires than those used on road bikes.
Cyclocross is a term usually used by manufacturers to describe competition bikes, with Gravel bikes preferred for the recreational/touring variety, but many riders use the terms interchangeably and either refers to a road-style bike designed and built for rough terrain.
These bikes excel on unpaved back roads and in the hands of a skilled rider they are able to take on smoother singletrack trails usually occupied by cross-country mountain bikes. They are easily adapted to carry front and rear loads and ideal for efficient riding over long distances on rough-surfaced roads.
Hardtail mountain bikes are the Swiss Army Knives of the bikepacking world and are a common choice for bikepacking. The rigid rear makes racking loads easy and provides efficient pedaling over long distances.
Many modern hardtails now offer "slack" front ends that place the front wheel further forward than traditional designs, a feature designed for stability on steep descents. You probably won't want to take your hardtail down a steep technical slope while it's fully loaded for bikepacking, but that trail-friendly front end can come in handy for casual trail rides between bikepacking trips!
If your bikepacking routes involve a mix of back roads and singletrack, a hardtail is a perfect compromise.
Full suspension mountain bikes were originally rejected by bikepacking purists, primarily because of the difficulty of mounting bags on a bike with a back end that moves relative to the frame. Riders who only had full suspension bikes wanted to go bikepacking too, though, and they quickly found ways to deal with that problem.
Several manufacturers, notably Thule, now make rear racks that are fully compatible with full suspension bikes. If your bikepacking routes involve sections of rough trail or rocky, percussive roads, a full-suspension bike may be a perfect choice. 29" wheels are preferred for their ability to hold momentum and eat up distance.
Fat bikes are getting in on almost everything bikes do, and bikepacking is no exception. Those huge squishy tires hold up to loads easily, though you may need to put more air in them than usual, and many have rigid fronts and rears that make racking loads easy.
Fat bikes excel on soft surfaces and are surprisingly versatile on other trails as well. Don't worry about the relatively small 26" wheels. When you add on the diameter of the giant tires, the actual working size of the wheel is very close to that of a 29"-wheeled bike!
Your choice of a bikepacking bike will depend on where you intend to ride, what you'll do with your bike when you're not out bikepacking, and your own personal preference, but all of these types are viable options!
LEARN MORE
REI has some expert advice on how to choose a bike for bikepacking, and Bikepacking.com offers this introduction to bikepacking and the bikes and equipment used for bikepacking. Bike magazine has some advice on setting up a full suspension bike for bikepacking.
SPECS AND FEATURES EXPLAINED
WHEEL SIZES
There are three wheel sizes in common use: 29" (called 700c by road bikers), 27.5" (called 650b by road bikers), and the old 26", now used almost exclusively on fat bikes. 29" wheels are usually preferred for bikepacking, as larger wheels retain momentum and speed better and are considered more efficient for sustained mileage.
FRAME MATERIALS
Modern bike frames are made from steel, aluminum, or carbon fiber. Excellent frames are made using all three.
Steel frames are extremely strong and can be made with relatively narrow tubes, giving them a unique appearance that many riders admire. Steel also has a reputation for being able to absorb vibration without compromising rigidity
Aluminum is a light, strong, easily workable frame material that's found on everything from entry-level to high-end bikes. Modern hydroforming processes allow aluminum tubes to be shaped in curved, flowing designs that place more material where strength is needed.
Carbon fiber is light, strong, and rigid and is used mainly on more expensive bikes.
SUSPENSION
Mountain bikes are typically full suspension, using suspension in both front and rear, or hardtail, using only a suspension fork in front. Modern rear suspension designs are light, efficient, and designed for comfortable riding, but they usually involve multiple pivot points, bearings, and a rear shock, adding to a bike's complexity. Fox and RockShox dominate the bicycle suspension market and their products are preferred by most manufacturers.
Some suspension forks use a lockout feature that makes the fork fully or largely rigid to improve climbing efficiency.
DRIVETRAINS
A bike's drivetrain moves power from the pedals to the rear wheel and shifts the bike's chain through a number of gears, enabling performance on anything from level ground to steep hills. A bike's drivetrain is a critical part of its performance. Many modern bikes use only a single front chainring, but some still have more. A drivetrain is described by the number of rings front and back. A bike with 2 rings in front and 10 in the rear has a 2×10 drivetrain.
SRAM and Shimano dominate the drivetrain market and their products are preferred to most other brands. Bikes are often classified by their drivetrains. A build with "NX Eagle" in its name will use SRAM's NX Eagle drivetrain components.
BRAKES
Disc brakes are powerful, efficient, and perform in all road and weather conditions, and they are preferred for bikepacking rigs.
Mechanical disc brakes are cable-actuated and relatively inexpensive. They are powerful and reliable but they require a significant squeeze to activate, which can cause exhaustion and even cramping in the hands during long descents.
Hydraulic disc brakes are more expensive, but provide braking power with very little hand pressure. They also provide superior modulation, allowing you to use levels of braking between open and full stop more easily. They are preferred for bikepacking bikes.
DISTANCE vs TRAIL DESIGN
Bikes designed for long-distance riding have traditionally used a "steep" geometry that places the seat almost directly above the pedals and the handlebars above the front wheel. This arrangement is ideal for sustained power but may feel unstable on steep descents.
Bikes designed for steep trails use a "slack" design that places the seat further back and the front wheel farther in front of the handlebars.
Many modern designs use a relatively steep rear and a relatively slack front, adapting the bike for use in multiple roles.
DROPPER SEATPOSTS
Most riders want their seats high for climbing and level-ground riding but low and out of the way for steep descents. Traditional seatposts required the rider to stop and dismount to adjust seat height. Dropper posts can be adjusted on the fly using handlebar-mounted controls. They are expensive, require occasional service, and heavier than conventional posts, but they are a huge asset if you ride in conditions that demand frequent transitions between climbing and descending.
THROUGH AXLES
In the past, wheel hubs used to attach to the frame or fork with a quick-release skewer. These provided fast, easy mounting and dismounting but left wheels prone to flex and occasionally fell off bikes, sometimes with catastrophic consequences. Many modern hubs use 12mm or 15mm through axles instead, which provide greater rigidity and security. These axles screw into place and must be matched to the frame and fork. A fork with a 15mm axle must be used with a 15mm axle front wheel.
TUBELESS-READY WHEELS
Many riders prefer tubeless setups, which ditch traditional inner tubes for a sealant. Tubeless setups are lighter and will self-seal most flats. If a wheel is described as "tubeless-ready" it can be used in a tubeless setup. You will have to use a tire designed for tubeless use and add sealant.
MOUNTING POINTS
Bikepacking involves attaching bags, bottles, and other accessories to the bike's frame. Many bikes designed for touring and bikepacking feature attachment points designed for mounting these accessories.
READ MORE
For more of our top bicycle touring gear recommendations, check out these popular buyer's guides: