Updated on September 29, 2020
Any seasoned bikepacker knows this truth: nothing beats a hot meal at the end of a long day of conquering flats, hills, and wide open roadways. If you want to have a hot meal (or a whole bunch of 'em) on your bikepacking journey, you have two options: you can stop at restaurants, or you can cook for yourself. Well, being the Adventure Junkies we are, we prefer the latter. And that's why we've compiled a list of the best stoves for bikepacking.
WBelieve it or not, bikepacking stoves come in a wide range of shapes, sizes, and functionality. But not to fear – we've broken it all down for you in this article. From fuel type to boil times, we've got all of your burning questions answered!
For more of our top biking gear recommendations, check out the Best Bikepacking Sleeping Pads.
Quick Answer

-

The Best Stoves for Bikepacking
Comparison Table

-

Best Stove for Bikepacking

For the best experience turn your device horizontally
Reviews

-

The Best Bikepacking Stove
MSR PocketRocket 2
Specs
Dimensions

:

7.25 x 5 x 4

Weight

:

2.6 oz.

Fuel Type

:

Canister

Boil Time

:

3 min. 30 sec. (1 L)

Fuel

:

Propane

Burn Time

:

60 min
Features
Control Valve Gives You Complete Control Of Flame Size
Pot Can Be Folded Up For Compact Travel
Super Light Hard Shell Carrying Case Included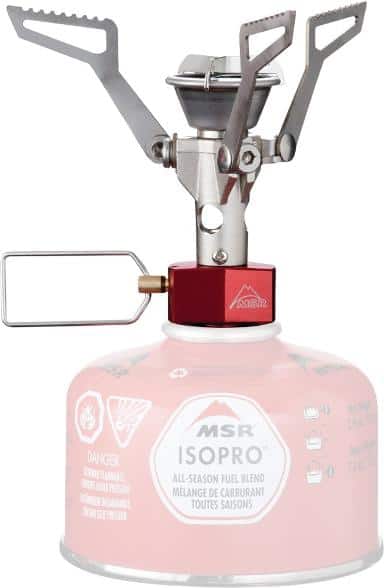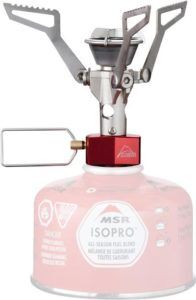 BEST PROPANE STOVE
Propane stoves are probably the most common backpacking/bikepacking stove, and this one is our favorite! Checking out at a great price, the MSR PocketRocket 2 has been updated from its original version, and though it is now smaller and lighter, it also holds a wider range of pot sizes.
This stove boasts a speedy average boil time and special pot supports that prevent slipping and spills. Its precision control valve lets you easily adjust the flame, even when you're wearing gloves. Plus, there is no stove easier to light than this one! There is no priming, preheating, or pressurizing needed. Instead, you just turn it on, light it, and cook! Because of its simple start up, this stove is also a great pick for first time bikepacking stove users.
MSR WhisperLite
Specs
Dimensions

:

6.5 x 5 x 4

Weight

:

10.9 oz.

Fuel Type

:

Liquid

Boil Time

:

110 min

Fuel

:

Auto, White Gas, Kerosene

Burn Time

:

3 min. 30 sec. (1 L)
Features
Updated Design Is Durable, Yet Light
Works With A Variety Of Universally Available Fuels
Cleaning This Stove Is Easy As Can Be With Shaker Jet Technology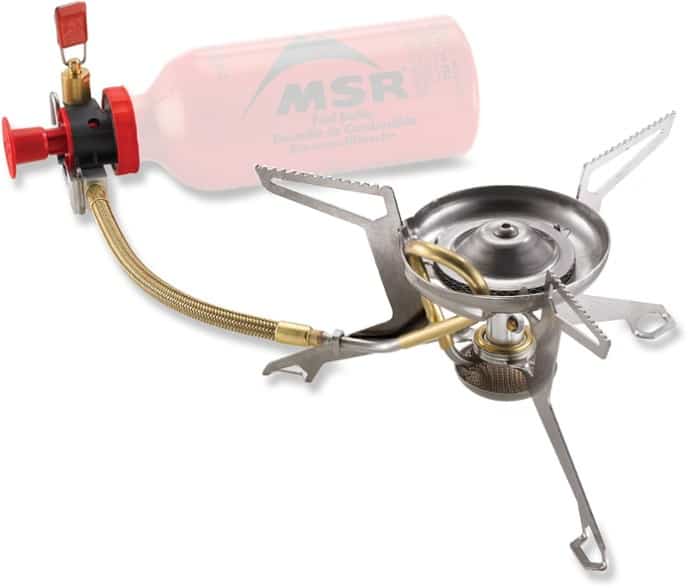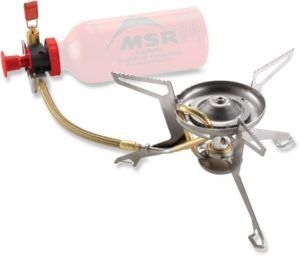 BEST LIQUID FUEL STOVE
From MSR comes another gem of a bikepacking stove: The WhisperLite. The WhisperLite is super durable, low in weight, and easy to use. Plus, its ability to run on three different types of gas make it ideal for the world traveler, who may find fuel options variable or limited depending on where they are.
Though it is a bit pricier than some of our other best stoves for bikepacking picks, this stove is well worth its cost. That's because when you make this purchase, you don't just get a quality stove. You also get the fuel pump, windscreen, heat reflector (which maximizes fuel efficiency), and a protective storage bag. What's more, the WhisperLite is equipped with a unique cleaning system called Shaker Jet Technology. This makes cleaning your stove as easy as giving it a little shake.
GSI Outdoors Glacier
Specs
Dimensions

:

5 x 3.2

Weight

:

5.9 oz.

Fuel Type

:

Propane

Boil Time

:

4 min. (1 L)

Fuel

:

Canister

Burn Time

:

N/A
Features
Easy-To-Turn Control Valve Allows For Precision Flame Control
Powerful Burner Design Evenly And Efficiently Distributes Heat Even On Large Pots and Pans
Durable Materials And Sturdy Design Mean This Stove Is Built To Last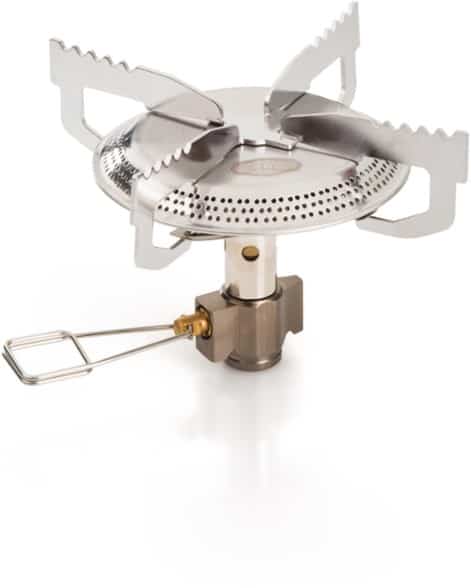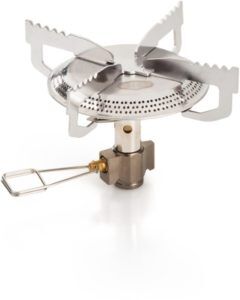 BEST BUDGET STOVE
When it comes to most outdoor gear and equipment, as you lower your budget, you sometimes sacrifice quality. Not with this small but mighty stove! With the ability to support larger sized pots, a precision flame control dial, and a sturdy design that is sure to hold up against lots of use, the Glacier Camp Stove from GSI Outdoors is a fantastic value.
Its other features include serrated pot arms that hold your cookware in place, a powerful burner that heats even larger pots and pans, and an average boil time of about four minutes. It also comes with a handy bag for safe storage and transport. It's nothing fancy, but for its cost, this stove packs a mighty punch!
Solo Stove Lite
Specs
Dimensions

:

3.8 x 4.25

Weight

:

9 oz.

Fuel Type

:

Wood

Boil Time

:

8-10 min. (1 L)

Fuel

:

Wood

Burn Time

:

N/A
Features
Dual Wall Design Promotes Airflow To Burn Efficiently While Reducing Smoke
Thin Upper Ring Shields Stove From Wind
Ash Pan Collects Ash And Protects The Ground Below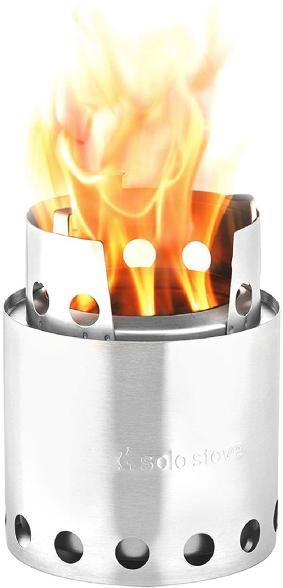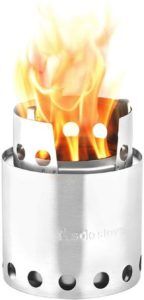 BEST WOOD BURNING STOVE
Not a fan of gas or liquid stoves? Would you rather have one that lets you burn fuel available to you in the great outdoors? Well, we've got your solution, and it comes in the form of the Solo Stove Lite. This little guy is our top pick for the best wood burning stove.
Superior for its kind, the Solo Stove Lite is equipped with a windshield and an airflow-promoting wall design. Plus, vents located at the top of the stove keep your fire burning hot while reducing the amount of smoke. Buyer beware: there is one downside to a wood burning stove in comparison to other bikepacking stoves: your cooktimes will double and in some cases triple. If you don't mind a leisurely cooking experience though, this is a great pick!
Optimus Crux Lite
Specs
Dimensions

:

4.2 x 4.2 x 5

Weight

:

7.1 oz.

Fuel Type

:

Canister

Boil Time

:

3 min. (1 L)

Fuel

:

Propane

Burn Time

:

90 min
Features
Large Burner Head Disperses Heat To Prevent Burn Spots On Cookware
Powerful Burner Speeds Up Boil Time
Storage Canister Doubles As Cookset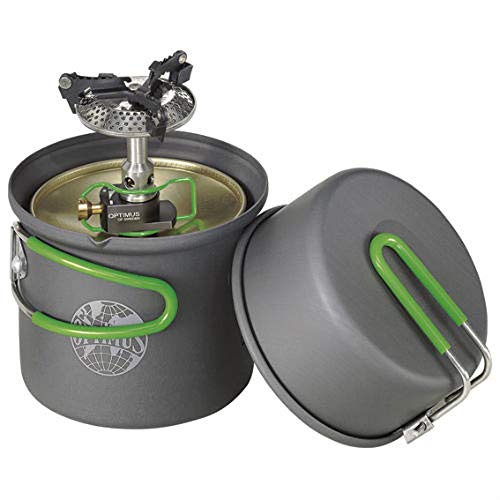 BEST POTS-INCLUDED STOVE
This Crux Lite package from Optimus includes more than just a stove! The hard-shell carrying case actually doubles as two pots, so you don't have to take up extra space in your pack by carrying them separately, and you'll also save some cash because you don't have to buy cookware.
This stove features a large burner head, which allows heat to disperse more and works to prevent burn spots on your cookware. The Optimus Crux Lite is equipped with a powerful 3,000 watt burner that makes cooking fast and simple. Plus, its super efficient fuel use design means an 8-ounce can of fuel will last you up to 90 minutes.
THINGS TO CONSIDER WHEN BUYING STOVES FOR BIKEPACKING
COST
You can get really fancy with your bikepacking stove if you want to, but you definitely don't have to. A simple gas burning stove can go for as little as $20, and it will get the job done! When it comes to the cost of stoves, though, there are some other factors to consider. Take fuel, for example. If you have a gas burning stove, you'll need to buy gas, but if you have a wood burning stove, you can probably get most of your fuel for free. One other cost consideration is cookware. Some stoves come with a small cookset, and others don't. Don't forget to factor in the long term costs of your stove selection.
FUEL TYPE
There are three main fuel types when it comes to backpacking stoves: gas, liquid, and wood.
Gas or Canister stoves run on a canister of gas that attaches to the stove and feeds fuel into the burner.
Pros:
Small and lightweight

Easy to start

Easy to adjust flame size
Cons:
Expensive Fuel

Windscreen cannot be used

Flame may be weak in cold weather
Liquid stoves run on burning liquid that runs from a reservoir and then through a tube to the stove.
Pros:
Less expensive fuel

Performs exceptionally well in cold weather and high altitudes

Easily assess how much fuel is remaining
Cons:
Occasional maintenance required

Fuel spills can happen

Weighs slightly more than canister stoves
Wood stoves run on… you guessed it! Wood!
Pros:
Super lightweight and takes up minimal pack space

Some models are compatible with small grills

Some can generate enough electricity to charge a mobile device
Cons:
Starting this stoves requires more work than other stoves

Average boil time tends to be longer compared to other stoves

Potential for fire bans mean there could be times these are not allowed
SIZE AND WEIGHT
When you are thinking about buying any bikepacking accessory or gadget that gets stored in your pack, you should be thinking about the item's size and weight. When you're bikepacking, you only get to bring what is absolutely necessary, and you have to maximize the space in your load! Small, simple stoves tend to be good for this reason, like some wood burning stoves that actually fold right down to be flat.
BURN AND BOIL TIME
Burn time equates to the amount of time the stove will run on one basic unit of fuel, and boil time is the average amount of time it takes the stove to bring water to a boil. You'll find a great range for both out there, and this consideration is one that truly comes down to personal preference.
With a short burn time, you may need to carry more fuel in your pack, but maybe that's something you don't mind doing. Similarly, a wood burning stove might take twice as long to boil water in comparison to a gas burning stove, but hey! Maybe you like a leisurely mountain-side chef session anyway.
Be aware that boil times vary in varying conditions, like altitude. For more on the science behind boiling water and how it affects us outdoorsmen and women, check out Why Does Water Boil Faster at Higher Altitude.
MORE INFORMATION
Looking for a more in-depth guide? No sweat. REI Experts break all this stove mumbo-jumbo down even further in their article, Backpacking Stoves: How to Choose.
FEATURES EXPLAINED
FUEL TYPE VS. FUEL
Fuel type is a broader term that is used to describe the general category of fuel that is used (for example: canister). Fuel is more specific and refers to the exact substance the stove needs to run (for example: propane).
CONTROL VALVE
A large dial on the side of the stove that allows you to adjust the flame size.
POT SUPPORTS/ARMS
Long, extending pieces of metal that serve to hold pots and pans in place while cooking. Longer arms add extra weight and size, but in turn support larger cookware.
BURNER/BURNER HEAD
The spot on the stove where fire comes out.
READ MORE
For more of our top bicycle touring gear recommendations, check out these popular buyer's guides: