Updated on September 28, 2020
Adventure Junkies far and wide are in on this little secret: the key to an amazing adventure is a good night's sleep. And when you're out on the road, it's not always easy to get one, but it doesn't have to be that way! What you need is a really great sleeping pad to help you get that quality adventure REM you've been dreaming of. That's where we come in. Below, you'll find an Adventure Junkie approved list of the very best bikepacking sleeping pads.
Before you dive into this article, you should know that the sleeping pads on this list aren't necessarily categorized as bikepacking sleeping pads where they're being sold, but we've selected them because we think they'll do the best job serving this purpose. We've chosen products that are lightweight, compact, and convenient to set up and take down. So what are you waiting for? Get reading and get on with chasing your dreams!
For more of our top biking gear recommendations, check out the Best Stoves for Bikepacking.
Quick Answer

-

The Best Bikepacking Sleeping Pads
Sea To Summit Comfort Plus

HIKENTURE Backpacking Sleeping Pad
Comparison Table

-

Best Bikepacking Sleeping Pad

For the best experience turn your device horizontally
Reviews

-

The Best Sleeping Pad for Bikepacking
Therm-a-Rest Trail Scout
Specs
Type

:

Self-Inflating

Dimensions

:

72" x 20"

Insulated

:

Yes

Weight

:

1 lbs 06 oz

R Value

:

3.1

Shape

:

Semi Rectangular

Thickness

:

1.0 in

Volume

:

11.2 L

Inflation Type

:

Self-Inflating
Features
Fast-Acting Pump Sack Makes Inflation/Deflation Fast And Easy
Customize The Firmness By Adding A Few Breaths After The Self-Inflation Process
Packs Down Into A Small Stuff Sack To Maximize Space

The Therm-a-Rest Trail Scout is a self inflating lightweight backpacking sleeping pad. It's a great option for beginners, scouts and budget conscious backpackers. 
What we love the most about the Trail Scout is its overall value. While it's not the flashiest pad out there, it does do a great job at balancing weight, durability, packability and price. Compared to other budget sleeping pads, the Trail Scout is an excellent value. It inflates mostly on its own, you'll need to give it a few extra blows to fully inflate it. 
The biggest downside of this pad is it's thin, it's only one inch thick. It's certainly an upgrade from a closed foam pad but it's nowhere near as comfortable as the thicker pads that are on this list. For a slight upgrade in comfort while still staying on a tight budget, check out the Therm-a-Rest Trail Lite.
The Therm-a-Rest Trail Scout comes in three sizes: Regular, Short and Long. 
Sea To Summit Comfort Plus
View Women's Version
Specs
Dimensions

:

72" x 25"

Insulated

:

Yes

Weight

:

2 lb. 12 oz.

Shape

:

Rectangular

Thickness

:

3 in.

Inflation Type

:

Self-Inflating
Features
3 Inch Thickness Provides A Luxury Sleep Experience
Specially Designed Insulation System Keeps You Warm In Key Body Areas While Reducing Weight
Non-Slip Details Keep The Pad In Place

BEST COMFORT SLEEPING PAD
Luxury sleeping pad…kind of sounds like an oxymoron, doesn't it? Well, with the Sea to Summit Comfort Plus, it doesn't have to be. Even the name makes us want to just curl up and take a nap on it! This ultra-comfy sleeping pad has everything you need for a great night's sleep on the trails, from a high-tech insulating system to 3 inches of thick, plushy contentment.
Before you go all in and add this sleeping pad to your cart, we do want to make mention of two slight downsides that may or may not affect your decision to buy. The first is the cost. Any high-end sleeping pad like this one will come with a notably higher price tag. The second is the weight. Because this pad does have all the high end features you might want, it does double and nearly triple the weight of some of our other sleeping pad picks.
Nemo Tensor Alpine
Specs
Dimensions

:

72" x 20"

Insulated

:

Yes

Weight

:

1 lb. 1 oz.

Shape

:

Rectangular

Thickness

:

3 in.

Inflation Type

:

Blow Up
Features
Incredible Thickness To Weight Ratio Means You'll Maximize Comfort While Reducing Weight
High-Tech, 3-Layer Warming System Traps Body Heat To Insulate From The Cold
Sustainability Alert! 100% Recyclable Packaging Is Made From Previously Recycled Materials
BEST ULTRALIGHT SLEEPING PAD
Let there be LIGHT! If low packed size and weight are important considerations for you, look no further. This is the best ultralight sleeping pad your money can buy. Decked out with a special air valve and a pump sack to make adding and removing air easy breezy (pun intended), the Nemo Tensor Alpine will light up your next bikepacking trip (okay, okay, we'll stop with the puns, now).
This sleeping pad is by far the most expensive on our list of best bikepacking sleeping pads, but if you're looking for one product that has it all, this is it. It offers 3 inches of cushion that strikes the perfect balance between stability and comfort. It also has a super high R-Value, which means that it is suitable for even the coldest of nights. And oh yeah, did we mention? As an added bonus for us lovers of the earth, the packaging for this product is made from recycled materials and is 100% recyclable itself.
REI Co-op Flash 3-Season
Specs
Dimensions

:

72" x 20"

Insulated

:

Yes

Weight

:

1 lb. 4 oz.

Shape

:

Mummy

Thickness

:

2 in.

Inflation Type

:

Blow Up
Features
Mummy Shape Helps Cut Down On Weight And Size When Packed
Updated Design For Added Durability
Dual Valve Technology Makes Inflation And Deflation Easier Than Ever Before

BEST BLOW UP SLEEPING PAD
While self-inflating sleeping pads are great, there are many reasons you might want a sleeping pad you blow up yourself, like the fact that blow up sleeping pads tend to weigh less and pack down to a smaller size, too. We love the REI Co-Op Flash and we've picked it as our favorite blow up sleeping pad.
Featuring a mummy shape that cuts down on packed size and weight, a super durable design, and dual valve technology that makes inflation and deflation easier than ever, this sleeping pad is sure to please. 
The only real down-side to a blow up sleeping pad is that you have to, well, blow it up yourself. If this is something you're just not into, steer clear. But if you don't mind the idea of about 30 seconds of huffing and puffing, we highly recommend this pick, especially since it's designed to drastically cut down on the number of breaths needed to fully inflate. Breathe in, breathe out…ahhhh.
HIKENTURE Backpacking Sleeping Pad
Specs
Dimensions

:

72.5" x 24"

Insulated

:

No

Weight

:

20 oz.

Shape

:

Semi Rectangular

Thickness

:

3 in.

Inflation Type

:

Blow Up
Features
Extremely Lightweight Design Won't Weigh Down Your Pack
Nylon Fabric Enhances The Pad's Durability And Waterproof-Ability
Comes With A 90-Day Money Back Guarantee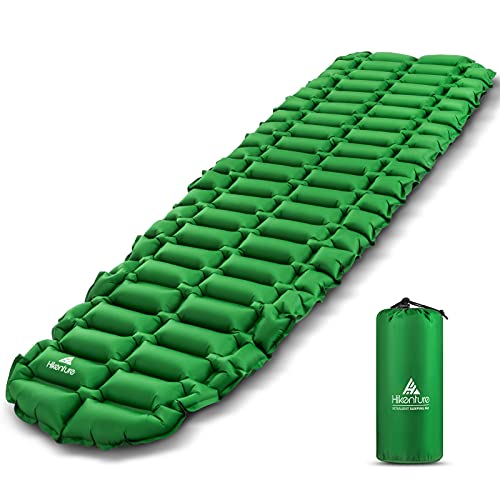 BEST BUDGET SLEEPING PAD
This colorful blow-up sleeping pad has almost three-hundred five star customer reviews, and it gets an A+ rating from us, as well. It's no secret that the costs of bikepacking add up quickly, but the Hikenture Backpacking Sleeping Pad helps to soften the blow to your pocket. You'll have to let us know if you find a high-quality sleeping pad at a lower price than this, because we sure couldn't. 
Let us be clear — this sleeping pad does not come with all the glitz and glam that some others do. It is not, for example, self-inflating; it doesn't come with premium plush cushioning; it is uninsulated. However, if you're a warmer weather camper who doesn't need the glitz and glam, or if you're just looking to get into bikepacking with some affordable equipment, it really is perfect!
THINGS TO CONSIDER WHEN BUYING BIKEPACKING SLEEPING PADS
WEIGHT
As with any back or bikepacking product, weight is a very important consideration. If you're the type of bikepacker who prioritizes speed and distance, you'll want to look for a low weight sleeping pad. That may mean sacrificing a little bit of thickness and therefore comfort because in general, the heavier the sleeping pad, the more comfort it provides.
DIMENSIONS, SHAPE AND THICKNESS
Sleeping pad dimensions are important to consider, especially if you are taller/larger than average, since the dimensions may affect your level of comfort. Instead of one size fits all, many sleeping pads come in regular and long wide sizes. Be sure to read the exact dimensions for each. 
There are three sleeping pad shapes to consider: Rectangular, Semi Rectangular, and Mummy. 
Rectangular sleeping pads are shaped just how you would think: like a rectangle. They have the most head and foot space and tend to weigh a tiny bit more than the other shapes. 
Semi Rectangular sleeping pads are very close in shape to rectangular sleeping pads, but they might have an oh so slightly slimmer foot space and/or rounded corners. 
Mummy sleeping pads have rounded corners and a wider head space than they do foot space. This shape is designed to conserve space and weight in your pack.
When it comes to sleeping pads, thickness plays a great role in the amount of comfort the pad provides. In general, a 1 inch thick pad is considered thin or minimalist and a 3 inch thick pad is considered thick or luxury. Thickness also affects the cost and weight of the sleeping pad, meaning the thinner the pad, the more likely it is to weigh less and also cost less.
INSULATION
If you're primarily a warm weather bikepacker, you don't need to worry too much about sleeping pad insulation, but if you plan to use your pad on cooler nights (and remember-cooler nights do happen even in summer, depending on where you are!), then you'll definitely want to look into pad insulation. An important spec to know is the pad's r-value. R-values run 1-5 with low r-values indicating low insulation (warm weather sleeping pads) and high r-values indicating greater insulation (cool to cold weather sleeping pads). You can read more about r-values in the lower section of this helpful article and all about winter camping basics in this one.
INFLATION TYPE
There are two main inflation types: self-inflating and blow up.
Self-inflating sleeping pads either have a valve that automatically takes in air when you open it, or they come with a "pump sack" that you can use to inflate and deflate the pad. These pads tend to be a bit heavier and bulkier than the blow up variety.
Blow up sleeping pads are pads you blow up with your own breath. They typically have a one-way valve that makes this process easy, and can usually be blown up in under one minute. This type of sleeping pads tends to be a bit thinner, but also lighter, than the self-inflating variety.
SPECS AND FEATURES EXPLAINED
PUMP SACK
A sleeping pad carrying case that doubles as an automatic air pump.
READ MORE
For more of our top bicycle touring gear recommendations, check out these popular buyer's guides: