Updated on August 28, 2020
Big tires are the defining feature of a fat bike. Those giant pieces of rubber bring epic traction and comfortable cushioning, but they also attract a lot of road debris. You'll often see tire makers claim that their fat bike tires "shed mud" easily. That's a good thing if you want to keep your tires light, but if you're moving at any speed the mud and debris your front tire sheds can end up in your face and the spray from your back tire can decorate your back. The best fat bike fenders are designed to keep that from happening.
For more of our top fat biking gear recommendations, check out the Best Fat Bike Wheels.
Quick Answer

-

The Best Fat Bike Fenders
Portland Design Works Mud Shovel

Portland Design Works Origami
Comparison Table

-

Best Fat Bike Fenders

For the best experience turn your device horizontally
Reviews

-

The Best Fenders for Fat Bikes
Mucky Nutz Fat Fenders
Specs
Material

:

Plastic

Weight

:

42g (front) 45g (rear)

Fender Type

:

Separate
Features
Extra Wide To Cover Fat Tires
Rear Fender Attaches To Saddle Rails For Easy Installation
Pre-Molded Bend Points Allow Width Adjustment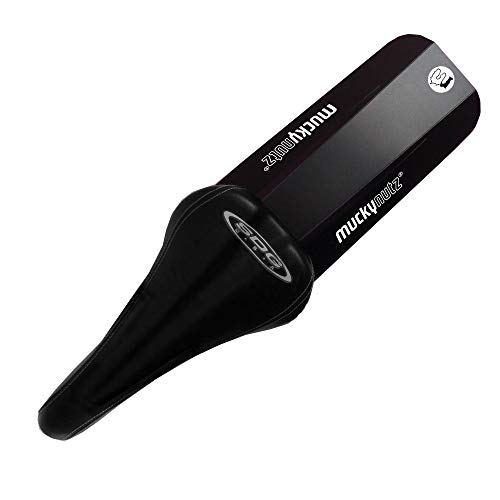 BEST BUDGET FAT BIKE FENDER 
The Mucky Nutz Fat Face/Fat Butt combination is one of the simplest, lightest, and cheapest fenders on the market and most users find that it's quite capable of doing the job it's designed to do. Both fenders arrive packed flat and need to be bent along fold lines to fit the tire. They are secured with velcro straps, with the rear fender attaching to the seat rails for additional simplicity. You can even trim them with scissors if you don't need the full width.
These are not the toughest or the most rigid fenders on the market, and if you expect your fenders to collect quantities of mud and debris you may want something more robust. If you're looking to keep basic spray and grime out of your face and off your back and you want something quick, easy, and relatively cheap, they will do quite well.
Portland Design Works Mud Shovel
Specs
Material

:

Plastic

Length

:

24.5" (Front), 22.5" (Rear)

Weight

:

N/A

Width

:

8" (Front), 6" (Rear)

Fender Type

:

Separate
Features
Extra Long And Wide To Fit Any Fat Bike
Front Fender Mounts To Down Tube With Secure Straps
Rear Fender Mounts In Seconds To Any Seatpost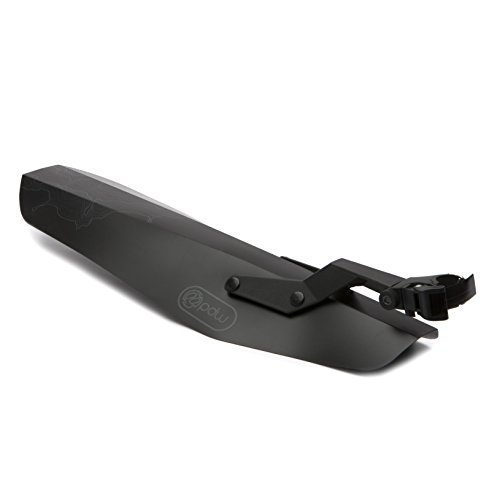 BEST FOR THE BIGGEST TIRES
Portland is known for rain and bicycles, and Portland Design Works is a leading producer of products designed to keep rain, mud, and debris away from cyclists. These fenders aren't just big, they're huge, sporting enough width and length to block every bit of spray and debris from even the largest tires. They are also fast and easy to put on and take off, making them an ideal choice if you want to use one set of fenders on more than one bike. If you want to make sure that nothing ever gets from your tires to your body and you don't mind having a rather prominent accessory on your bicycle, this is the fender for you.
The disadvantage of these fenders is the same as their advantage: they are enormous. If you don't spend a lot of time riding in gunk-heavy conditions and you're looking for streamlined, unobtrusive accessories, you may find them to be a bit too much!
Portland Design Works Origami
Specs
Material

:

Plastic

Length

:

14.5" (Front), 7.5" (Rear)

Weight

:

2.1 oz (Front), 5.6 oz (Rear)

Width

:

3.2" (Front) 3" (Rear)

Fender Type

:

Separate
Features
Ultralight Sheet Construction
Fast And Easy To Install And Remove
Packs Flat, Easy To Carry In A Pack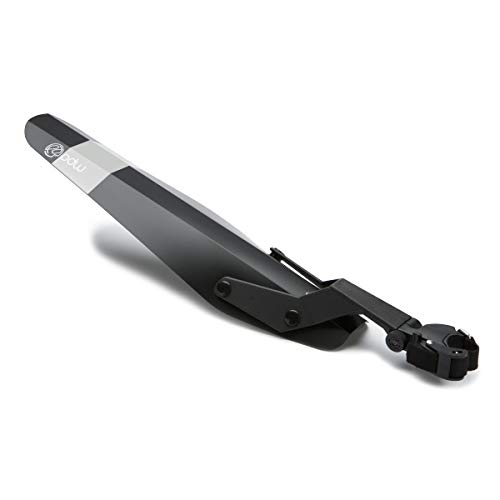 BEST FOR OCCASIONAL USE
Portland Design Works calls this fender the Origami for a reason. You punch it out of its sheet, fold it to fit, and strap it onto your bike, and you have instant protection from spatter, spray, and debris. When you no longer need them, take them off, unfold them, wipe them down and tuck them into your backpack. These are among the lightest and most compact fenders on the market. They are also among the easiest to install and remove, making them an ideal choice as a backup product that you only put on your bike when you need it.
The Origami doesn't have the size of the coverage that many of the other fenders on this list offer, and is probably not an ideal choice for constant use in gunk-heavy conditions. It's a backup for people who prefer riding without fenders to use when they really need a fender, not a full-time fender for daily mud rides.
SKS Fatboards
Specs
Material

:

Plastic

Length

:

19" (both)

Weight

:

1 lb (combined)

Width

:

5.5"

Fender Type

:

Set
Features
2-Hinge Rear Arm Adjusts To Any Bike Geometry
Rear Fender Mounts Easily On Seatpost With Proven Clamp System
Power Straps For Fast, Easy Front Fender Mounting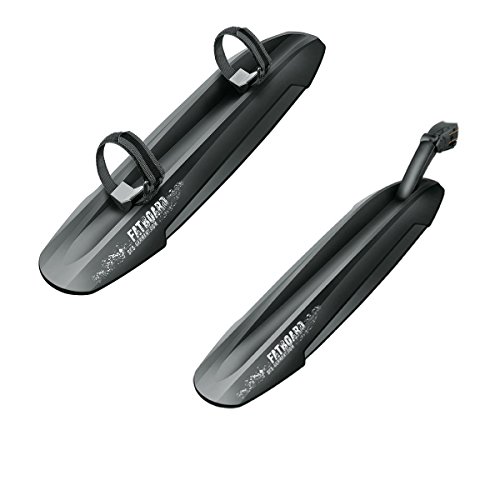 BEST ALL-AROUND FAT BIKE FENDER
The German-made SKS Fatboard is a compact, versatile fender offering complete protection for tires up to 5" wide. The front and rear fenders are identical, with only the attachment systems distinguishing them. The front fender mounts to the downtube of your bike with a Velcro strap system that is easy to install and remove and fits virtually any bike, with grooves to accommodate cables if your bike routes cables on the downtube. The rear fender mounts on the seatpost with a quick-release clamp and an arm that is hinged in two places to allow adjustment for seat tubes with any angle. 
The SKS Fatboard is an intermediate-sized fender. It doesn't offer as much coverage or as much protection as some oversized fenders, but it's much more compact and offers a great balance between bulk and protection along with very easy installation and removal. That combination makes it a top pick as an all-around fat bike fender.
Planet Bike Big Buck
Specs
Material

:

Polypropylene

Length

:

23.5" (Rear)

Weight

:

206 g (Front) 220 g (Rear)

Width

:

4.5" (Front and Rear)

Fender Type

:

Separate
Features
Front Fender Mounts To Small, Standard, And Oversized Steer Tubes
Durable All-Weather Polypropylene Blade
Rear Fender Angle Adjusts To Fit Most Bikes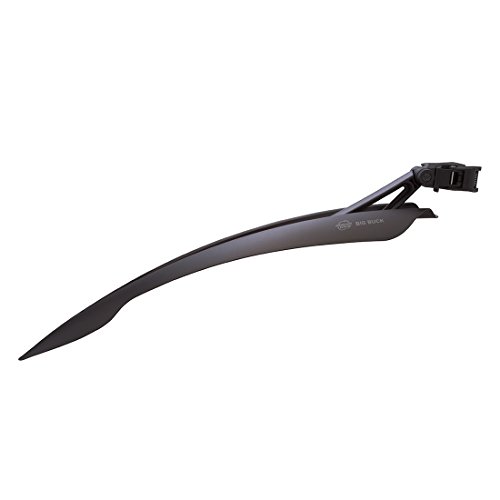 BEST FOR PERMANENT INSTALLATION
The Planet Bike Big Buck is unabashedly designed for fat bikes: the fenders are big and offer exceptional coverage, especially in the front, where the fender extends both in front of the fork and behind it. 
The rear fender mounts to the seat post with a hinged arm that will adjust to fit most seat tube angles. The front fender mounts to the bottom of the steer tube, making it more trouble to switch from bike to bike than some competitors. But if you plan to put a fender on a bike and leave it there, the Big Buck will provide the coverage you need to keep the mess off your body no matter how wide your tires are.
The front fender rides relatively close to the tire, and because of the mounting style, that distance is difficult to adjust. If you ride in very sticky mud, that may be an issue, as mud buildup on the tire could wedge against the fender and obstruct the tire. You'd have to be carrying a lot of mud on your tires for that to happen, but there are some types of mud that can do exactly that!
THINGS TO CONSIDER BEFORE BUYING FAT BIKE FENDERS
Fat bike fenders come in a variety of designs. Fenders may be sold as a set or individually. Front fenders can mount to the fork or the down tube and rear fenders may mount to the frame, clamp to the seatpost, or even attach to seat rails. Seatpost mounts should allow some adjustments, as some bikes have backward-slanting posts that could put the fender too close to the tire. They all have one thing in common: they keep water and debris from your tires off your bike and your body! Take a look at the different designs, assess your needs, and choose the fender that will work for you!
YOU NEED FENDERS
Fenders may seem less than essential, but if you ride in wet, grimy conditions, they are there for a lot more than decoration. Mud and spray can kick up into your bike's drivetrain and rear suspension, if you have it, and make a serious mess. Even more important, mud and debris shed from your front tire sprays in almost a full arc. If you're riding at speed, especially downhill, you can easily ride into your own spatter and take a face full of muck. That's not just an aesthetic issue: mud in your eyes can compromise safety, especially at speed. An unexpected eyeful of mud when you're tearing down a hill can have very unfortunate consequences!
KNOW WHAT YOU NEED
Different riders need different fenders. 
If you're in mud and grime nonstop, you'll want large, sturdy fenders that spread well beyond the edges of your tires. 
If you ride in sticky mud, you'll want lots of clearance between your tire and your fender to avoid mud clogging between the fender and the tire, and you may prefer a front fender that mounts to your downtube rather than to your fork. 
If most of your riding is dry and you're concerned with occasional rain, you may want compact, easily detachable fenders that you can keep with you and install quickly when you need them. 
If you have more than one bike, you may want fenders that can easily be switched from one bike to another.
All of these factors are personal and depend on your riding style and the conditions in which you ride. Having a clear idea of what you're looking for will make shopping easier!
LEARN MORE
Bike Exchange offers advice on choosing bicycle fenders and  Bike Advisor also has an article on how to choose the best bicycle fenders. If you'd prefer a video guide, Bicycle Maintenance Tips has one on how to choose fenders for your bike. 
SPECS AND FEATURES EXPLAINED
FENDER TYPE
Some fenders are sold only as a set, other manufacturers sell the front and rear fenders separately. If you are concerned with loss or damage to just one fender, it may be an advantage to be able to replace just the front fender or just the rear fender, as needed.
MATERIALS
Most fenders are made with various types of plastic, though some may be much more rigid than others. Fenders based on stiff plastic sheets are easy to pack flat and often quick to install and remove, making them ideal for occasional use and switching among bikes. Some sheet-type fenders fold to fit and may be trimmed to size with scissors. They may be less able to deal with heavy mud than thicker, more rigid fenders.
ATTACHMENT POINTS
Front fenders may mount to the fork, the bottom of the steer tube, or even to the down tube of the frame. A down tube mount gives the most clearance between the wheel and the fender but may not protect from spray generated while you are turning. 
Rear fenders may mount directly to the frame, by a clamp to the seatpost or to the seat rails. Seat rail mounts sit well above the rear tire and may need to be wide to protect the entire back, as spray spreads with distance. Seatpost mounts should have a hinged or flexible arm, as some seatposts are angled back more than others and a straight mounting arm on a slack seat tube could interfere with the tire.
ATTACHMENT METHODS
Many fenders attach with velcro straps or zip ties. These may not be the most secure attachments and you may encounter problems with fenders moving or even falling off. They do offer the advantage of being very quick to mount or remove, making them ideal for occasional use or for switching from one bike to another. Screw-on mounts are more secure but more complicated to mount and remove, and are better suited to long-term installations.
READ MORE
For more of our top bicycle touring gear recommendations, check out these popular buyer's guides: