Updated on October 28, 2020
There's nothing quite like a fat bike. These big-wheeled beauties give us the freedom and confidence to tackle all kinds of unconventional terrain. From sand, to snow, to rock, to mud, if you want to feel secure, you'll hit it all on a fat bike. And of course, you can't go anywhere on your fat bike unless you have a set of fat bike wheels! You know that here at The Adventure Junkies, we strive to help our readers make high-quality outdoor gear purchases, and that's why we've compiled this list of the best fat bike wheels.
We've handpicked a selection of our favorites, and we've provided a good bit of variety in terms of wheel makeup, size, and even price. With just a little time spent browsing this list of best fat bike wheels and the "Things To Consider" section, you should be able to find the perfect match for your terrain type, activity level, and wallet, too.
For more of our top bike gear recommendations, check out the Best Fat Bike Tires for Snow.
Quick Answer

-

The Best Fat Bike Wheels
Comparison Table

-

Best Fat Bike Wheels

For the best experience turn your device horizontally
Reviews

-

The Best Wheels for Fat Biking
JIMAITEAM 26er
Specs
Material

:

Carbon

Width

:

65mm

Tires and Tubes Included

:

No
Features
Double Wall Design Adds Durability And Stability
Width Is Ideal For Sand And Snow
Two Year Guarantee Means You Can Ride With Confidence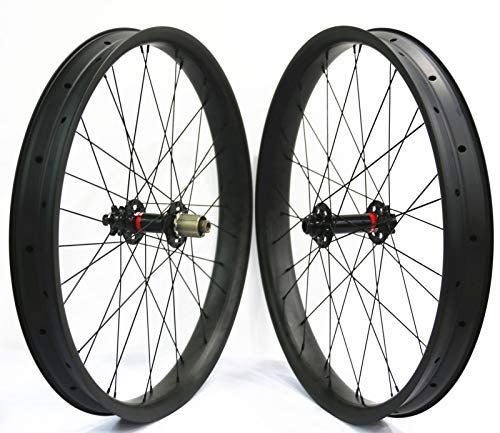 BEST ALL TERRAIN WHEELS
Are you a true fat bike adventurer who's looking to take on sand, snow, and everything in between? If you want superior stability (even for a fat bike, which is saying something) you'll definitely want to check out JIMAITEAM 26er Fat Bike Wheelset.
These wheels feature a dual wall design made specifically for extreme durability and stability, even on rough and uneven terrain. Though they are narrower than some fat bike wheels, their dual wall makes these wheels ideal for the sand and the snow, so if you're gungho for all sorts of weather and landscapes, these are for you. Plus, they come with a two year guarantee to top it all off.
ICAN Fat Tire
Specs
Material

:

Carbon

Width

:

90mm

Tires and Tubes Included

:

No
Features
Extra Wide Wheel Design Provides Added Support And Stability
Designed Specifically To Tackle Varying Tough Terrain
Two Year Warranty Included With Purchase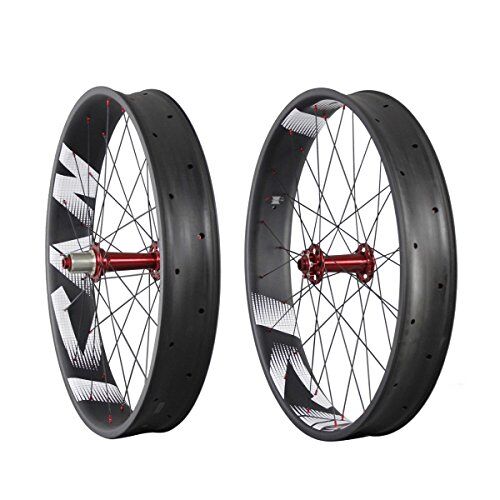 BEST OVERALL WHEELSET
If you're looking to up your fat bike wheel game, we've got just the wheelset for you. These 90mm wheels from ICAN perform at a high level in every sense. Just beware, they don't come cheap. If you're serious about your fat biking, though, they're just about the best set of wheels you can get.
The super wide wheel wall on this ICAN set enhances stability and control while you ride. The wheels are also made of ultra strong and lightweight carbon. When you purchase these wheels, you'll also be investing in excellent customer service. Reviewers boast over and over about the superior customer service they received when questions arose, and to tie it all together, these wheels come with a two year warranty.
Sun MULEFUT
Specs
Material

:

Aluminum

Width

:

80mm

Tires and Tubes Included

:

No
Features
Tubeless Style Eliminates The Need For And Hassle Of Tubes
Strong Aluminum Makeup Makes These Wheels Super Durable And Long Lasting
Sleek Black Spoke Design So You Look Cool And Feel Confident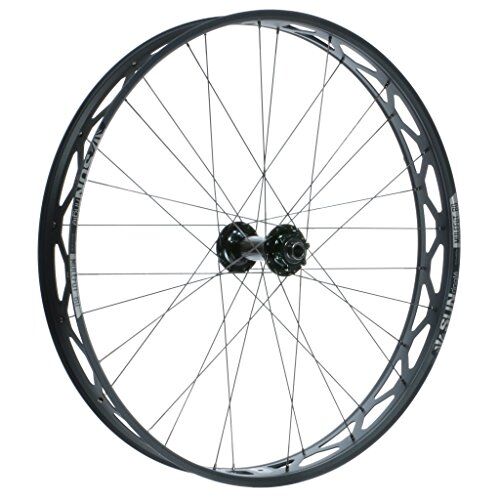 BEST TUBELESS WHEELS
Not a fan of the multi-part tube-tire combination? No problem. We've got your back with this great set of wheels from Sun. The MULEFUT 26" Wheel is a tube-hater's dream. Built with strong aluminum and complete with sleek black spokes, these fat bike wheels are built for high performance and ease of use. And if you've never used tubeless before, there's nothing to worry about. Setting them up and using them is easy as can be, and there are many other benefits like decreased tire-to-road friction and even fewer flat tires!
Flying Horse
Specs
Material

:

Alloy

Width

:

80mm

Tires and Tubes Included

:

No
Features
Comes In Two Colors So You Can Customize Your Look
Compatible With Both Fat Bikes And Beach Cruisers
A Great Quality Product At An Unbeatable Price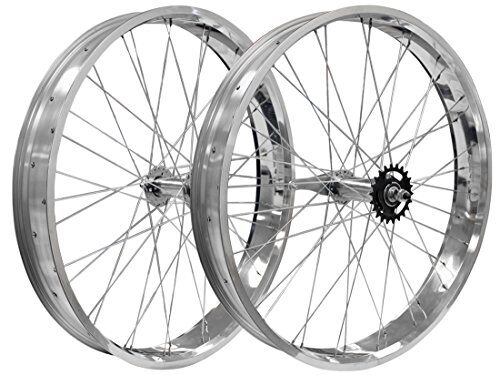 BEST VALUE WHEELSET
Fat biking on a budget? We've got you covered, especially since even if your budget is on the high side, the costs of any cycling sport can add up fast. This set of fat bike wheels comes to you from Flying Horse, and you'll be hard pressed to find another set at a similar quality and price.
The 80mm width of these wheels makes them ideal for fat bikes, but they work on beach cruisers, too. Plus, they come in two sleek colors: you can choose from a matte black or a shiny silver. These options allow you to customize the look of your bike through one of its most important parts: the wheels!
Bullseye MonsterWheels
Specs
Material

:

Alloy

Width

:

80mm

Tires and Tubes Included

:

Yes
Features
Tires And Tubes Included For A Ride-Ready Package
Disc Brake Compatibility Means You'll Be Up-To-Date With Latest Breaking Technology
Reviewers Brag About The Above Average Longevity Of This Product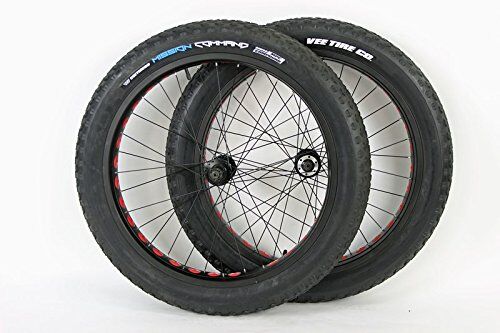 BEST ALL INCLUSIVE WHEELSET
If you're just itching to get on the road (or bike path or trail) and you don't want to deal with the hassle of getting your wheels, figuring out which tires and tubes you need to go with them, and then purchasing those too, look no further. The Bullseye MonsterWheels wheelset simplifies all that by coming with everything you need to get going right away.
This high-quality wheelset is built to withstand tough conditions, and people who own these spinners rave that they last for a well above average amount of time. Considering that tubes and tires are included with this wheelset, it's a great deal too!
THINGS TO CONSIDER WHEN BUYING FAT BIKE WHEELS
COST
As you may have noticed as you browsed our list of best fat bike wheels, you have a pretty big range of options when it comes to the investment component of this purchase. As is true with many cycling products, a higher price usually indicates higher quality materials and a longer life. That being said, you definitely don't have to break the bank to get yourself outfitted with some stellar fat bike wheels, especially if you're just getting started with the sport. With some time reading from this list, you should be able to find a set of wheels that is right for both your bike and your budget!
MATERIAL
There are a few different makeups when it comes to fat bike wheels. Namely, they are carbon, aluminum, or some type of alloy (mixture of metals). In general, carbon wheels are much lighter than wheels made from other metals. They're great if you plan to tackle lots of tough terrain and especially if you plan on climbing any hills or mountains. The light but strong carbon fiber aids in this type of biking.
Steel and aluminum are great alternative options to carbon. They are strong and they are more affordable than carbon, but both of these metals are heavier than carbon too, so they can make it more difficult if you are climbing or biking for long distances.
Many wheels are made of an alloy, or a mixture of two or more of these metals.
WIDTH
So just how fat should your fat bike wheels be? Well, width is an important determinant of how your bike handles, so it really depends on what kind of terrain you'll be tackling most.
Narrower rims are great for speed and turning because they're lighter and therefore easier to handle. As you increase the width of your fat bike wheels, you gear them more toward stability in sand, snow, and other whacky terrain, and less toward speed and ease of turning.
For an in-depth guide, check out this expert article about how to choose the right fat bike rim width for you.
SPOKES
Spokes are a really important part of your fat bike wheel. Without them, your bike wheel would fall apart under the weight and pressure of the bike frame and your body on top of it.
Depending on the kind of fat biking you'll be doing, you may want to have more spokes. In general, wheels with 35 or fewer spokes are not intended to carry any sort of extra weight or endure rough terrain.
If you'll be taking your fat bike through any rough terrain at all, you'll want to look for something with more than 35 spokes, especially because spokes can break (though it is not common) and the more spokes you have, the longer the wheel will hold up even in the event of a break. Number of spokes is not always specified clearly on a product page, so if this is something that will be important for you, you may need to inquire.
FEATURES EXPLAINED
TUBES AND TUBELESS TIRES
A pipe-shaped piece of rubber that sits against the bike wheel on the inside of the tire, the tube is the part that gets filled with air. Tubeless tires, on the other hand, are designed to work without tubes, and air can be pumped directly into a tubeless tire. Need some additional help with this topic? The REI experts can help. They explain how to choose bike tires here.
SPOKES
Thin, metal supports that run through the center of the wheel and work together to maintain the integrity of the wheel itself.
WALL
In this article, "wall" or "wall design" refers to the flat, circular surface that makes up the bike wheel.
BEACH CRUISER
Beach cruisers are a one-speed style of bike that falls somewhere between a normal road bike and a fat bike. Their tires are a bit smaller than fat bike tires, but some fat bike wheels are compatible with beach cruisers, as well.
READ MORE
For more of our top bicycle touring gear recommendations, check out these popular buyer's guides: