Updated on September 3, 2020
Fly fishing is a great way to get outdoors and enjoy the thrill of the hunt in the water or the peace and quiet of your local river. Whether you live near a big, meandering river or a small, grassy lake, there are fish beneath the surface looking for the right kind of flies to come their way. If you grab one of the best kayaks for fly fishing, you'll have access to much more fishing territory once you push away from the shore.
If you always fish from the shore, you only have access to those fish that wander within range of your casts. There's nothing like finding new secret spots that your competitors can't get to without a kayak. If you're a fly fishing enthusiast and you want to enlarge your accessible fishing grounds, read on to discover the best kayaks for fly fishing.
For more of our top kayak fishing gear recommendations, check out the Best Fishing Kayaks. 
Quick Answer

-

The Best Kayaks for Fly Fishing
Perception Pescador Pilot 12.0
Comparison Table

-

Best Kayak for Fly Fishing

For the best experience turn your device horizontally
Reviews

-

The Best Fly Fishing Kayaks
Perception Pescador 12
Specs
Length

:

12'

Weight

:

57 lbs

Style

:

Sit-on-Top

Weight Capacity

:

375 lbs

Width

:

32.5"
Features
Short Length and Light Weight (for easier transport)
Padded, Adjustable Seat
Enclosed Bow Compartment (for dry storage)
Gear Tracks (for attaching fishing accessories)

BEST FOR: RECREATIONAL BEGINNERS
The Pescador 10.0 is Perception's most basic kayak model made for fly fishing. It's the perfect starter boat if you're a novice fisherman (or woman!) and you also don't have a ton of paddling experience. It's a really short and light kayak, which means it's easy to transport from your car to the water's edge. The interior of the kayak includes a padded seat that can be adjusted for comfort and gear tracks that allow you to easily attach your preferred fishing gear to the sides to the boat. It also includes a large compartment in the front of the kayak for dry storage.
Perception Pescador Pilot 12.0
Specs
Length

:

12'5"

Weight

:

85 lbs

Style

:

Sit-on-Top with Pedals

Weight Capacity

:

525 lbs

Width

:

33.75"
Features
Removable Pedals (for more adaptable locomotion using upper or lower body)
Ergonomic Captain's Chair (fits a wide range of heights)
Front, Rear, and Central Hatches (for dry storage)
Four Molded-In Rod Holders (to keep multiple poles accessible)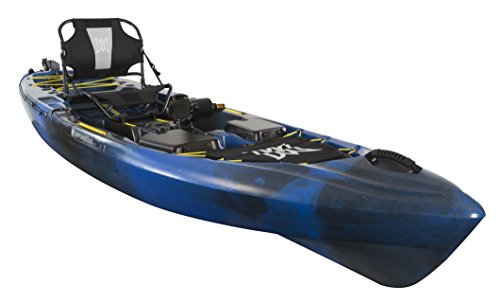 BEST FOR: HANDS-FREE FISHING
If you want to keep your hands free to fish while you continue moving around, the Perception Pescador Pilot 12.0 is a great choice. This kayak has a pedal drive system that allows you to use your feet to power it forward, but this system can also be removed if you wish to paddle with a kayak paddle. This kayak's ergonomic captain's chair is designed to fit individuals of many heights and a total of four molded-in rod holders allow you to keep multiple fishing pole setups ready at a moment's notice. It also includes a total of three hatches for ample dry storage on days when you're going to be out for several hours at a time.
Hobie Mirage Compass
Specs
Length

:

12'

Weight

:

87 lbs

Style

:

Sit-on-Top with Pedals

Weight Capacity

:

400 lbs

Width

:

34"
Features
A Sharp Turning Radius (for maneuverability in tight quarters)
Compatible with Fish Finder Technology (to improve your odds)
Oversized Cockpit (with more area for sitting or standing)
Pedals For Locomotion (allows you to use upper or lower body to move around)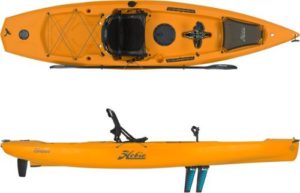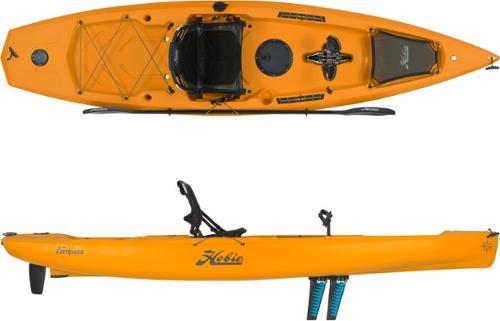 BEST FOR: COMFORTABLE CRUISING 
If your priority is to be comfortable while you're searching for the day's big catch, it's hard to beat the Hobie Mirage Compass. But this kayak is about more than just comfort. It also boasts an extremely sharp turning radius that allows you to maneuver in tight quarters. That means you'll be able to access more areas where fish typically hide from larger watercraft. You'll be able to get to those areas by using a paddle (and your upper body) or the attached pedals that allow you to power this kayak with your legs instead. It also has an extra-large cockpit area where you can sit or stand while you fish and a removable mesh seat designed to keep you cool on hot days. Finally, this kayak offers a spot where you can attach your preferred Fish Finder Technology (sold separately) to help you know whether you're fishing in a good spot (e.g.: there's actually fish there) or it's time to move on.
Old Town Predator 13
Specs
Length

:

13'2"

Weight

:

86 lbs

Style

:

Sit-on-Top

Weight Capacity

:

425 lbs

Width

:

30.5"
Features
Large, Textured Deck (for a stable place to stand while casting and reeling)
Stand-up Assist Strap (helps you move from seated to standing position)
Two Seating Positions (allows you to optimize for paddling or fishing)
Dual Tackle Holders (for easy access to different bait types)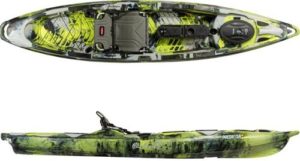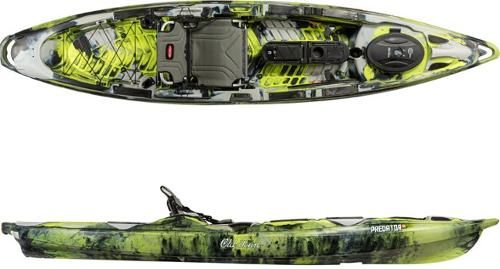 BEST FOR: STAND-UP FISHING
The Old Town Predator is the longest of the kayaks on our list and it offers exceptional stability if you're an experienced angler with the need to stand up and get a better angle when casting. This kayak's textured deck gives you grip when standing and the convenient assist strap helps you move from a seated paddling position to a standing fishing position. The seat in this kayak can be adjusted between 'Travel' and 'Attack' positions, depending on whether you're on your way to your favorite fishing spot or you're there and ready to start casting. This kayak also comes with two recessed tackle holders for you to store your different bait types and keep them within reach when you need them.
THINGS TO CONSIDER WHEN BUYING A KAYAK FOR FLY FISHING
LOCATION
A good understanding of where you typically go to fly fish is where you should start when determining the right type of kayak for fly fishing for you. The needs of a lake versus a slightly moving river, for example, will help you narrow down your choices to find the right kayak for your needs.
It's important to match your kayak to the conditions you'll most likely encounter when you go out fishing. If you like to fish in light surf, for example, you'll need a kayak that's designed to handle waves. But if you're primarily fishing in calm lakes where an elevated position can really give you an advantage, make sure you choose a longer, wider kayak that allows you to stand up comfortably (and safely) on the deck.
Location also comes into play in the form of how far you'll typically be paddling to reach your preferred fishing spot. You might be able to handle relatively short paddles with a good kayak paddle, but you might want to consider a kayak with a pedal drive system if you're going to be paddling for 30 minutes or more to reach your preferred location.
SEATING SYSTEM
The seating systems in kayaks made for fly fishing start to get pretty fancy pretty quickly. While your choice will depend on your experience and technique, beginners should consider the benefits of a seating system that is adjustable for a variety of conditions. Ultimately, you're looking for a seat that's high enough to allow you to cast comfortably but not so high that it makes your whole kayak feel unstable.
When evaluating the seating system of a few of the kayaks you're choosing between, make sure it can be adjusted to several different heights so that you can find a "happy medium" that works for you. This adjustability will also give you the freedom to further customize your setup as conditions change or you adapt your technique.
DECK
While you want to make sure that the deck of your kayak for fly fishing gives you places to secure the essential items you'll want to keep close at hand while you're fishing, it's important not to overdo it with a deck that offers too much. This is because snags can be a big issue when you're fly fishing, especially when you do set the hook and you have to reel in your line by hand. In general, the best kayaks for fly fishing have a wide, flat, clear deck that allows you plenty of space to move around, sit down or stand up, and pull in your catch without getting snagged.
WEIGHT
Weight primarily comes into play when you're transporting your kayak to and from the water. Just like with the adjustability of your seating system, you'll want to find a happy middle ground here as well. A kayak that's too light will be more likely to be blown around when the wind comes up and it'll make it harder to stay in your preferred fishing spot. A kayak that's too heavy, on the other hand, will be cumbersome to move about and can make you more likely to injure yourself before you even get on the water.
MANEUVERABILITY
The last consideration we'll mention here is your preferred method of locomotion. If you'll mostly be paddling for short distances, you'll be fine with a kayak that requires a traditional kayak paddle for paddling (as opposed to a pedal kayak, that you move with your feet). One big benefit of choosing this traditional type of kayak and paddles is that you'll also be able to use it for purposes other than just for fishing. But if you want to keep your hands-free while you maximize your fishing time on the water, you'll want to focus on a kayak with a pedal drive locomotion system.
FEATURES EXPLAINED
HATCHES
Hatches offer kayakers dry places to store gear that they want to keep dry. These are especially important if you paddle in locations with lots of wind and waves, as this can mean more splashing over the sides and into the cockpit of your kayak.
TRACKS
Tracks are unique to fishing kayaks. They are attached to the inside of the kayak and run along the length of the cockpit (from front to back). This makes them easily accessible when you're sitting in your kayak and they give you plenty of places to attach a variety of fishing gear.
ROD HOLDERS
Rod holders give you a place to keep your fishing poles (rods) secure while you're maneuvering your kayak. It also allows for hands-free storage of additional poles when they're not in use.
FISH FINDER TECHNOLOGY
These technologies come in many shapes and sizes, but they all serve a common purpose: to help you locate fish. Primarily, they use sonar technology to provide you with a digital view of the waters beneath your vessel.
COCKPIT
This is the area of your kayak where you'll find a comfortable seat or, in the case of kayaks for fly fishing, a secure stance. In other words, the cockpit of a kayak is where you'll spend the most time, so it's very important to find one that's comfortable for you!
TACKLE HOLDERS
These are built-in compartments in fishing kayaks that give you a place to store different types of bait. In the case of fly fishing, these tackle holders will give you a place to house the many different types of flies that you'll use in a given session.
READ MORE
For more of our top kayak fishing gear recommendations, check out these popular buyer's guides: