Updated on February 15, 2022
Inflatable kayaks get you from zero to fishing in a matter of minutes. You don't have to haul them out of the rafters or strap them to the car, you just grab the bag they came in and head to your fishing haunts. Inflatable kayaks also tend to weigh and cost less than solid-sided models, so you don't have to take up fishing at a cost. To help you decide which boat to go with, we put together this list of the best inflatable fishing kayaks.
If you're finally ready to invest in a floating fishing getaway, check out the features and specs on these to get an idea of what you want. You may need to stay in a certain weight limit or make a choice based on the fishing location you need the boat to get you to. Make sure to scroll to the bottom for reference guides on how to choose the right fishing kayak and definitions for some of the more technical terms. Happy fishing!
For more of our top kayak fishing gear recommendations, check out the Best Fishing Kayaks.
Quick Answer

-

The Best Inflatable Fishing Kayaks
STAR Challenger Sit-On-Top

Advanced Elements Advancedframe Convertible

Advanced Elements Straitedge Angler Pro

Sevylor Coleman Colorado 2-Person
Comparison Table

-

Best Inflatable Fishing Kayaks

For the best experience turn your device horizontally
Reviews

-

The Best Inflatable Kayaks for Fishing
STAR Rival Sit-On-Top
Specs
Length

:

12 ft 6 in

Weight

:

31 lb

Tandem

:

No

Rod Holders

:

None

Size Limit

:

Full-sized adult and gear

Seat

:

Mesh folding seat with aluminum frame
Features
Superior Abrasion-Resistant Material to Prevent Deflation
Five Mounts for Rod Holders, Fish Finders, and Other Attachments
Comes with Fin, Pump, Repair Kit, and Carry Bag
Bungee Rigging at the Front and Back for Storage
Front and Back Grab Handles to Carry to Shore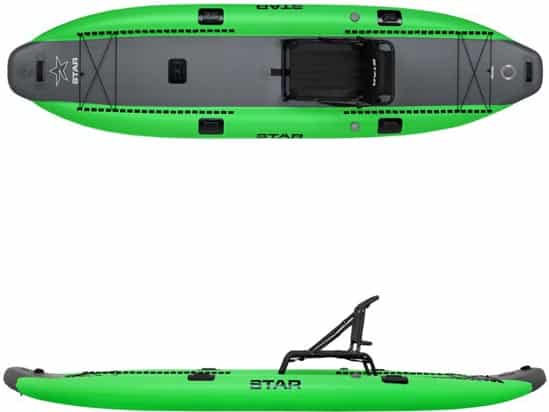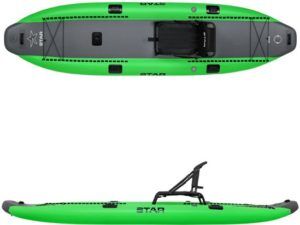 BEST FOR: WEIGHED DOWN, CLAUSTROPHOBIA-FREE FISHING
The Rival is like your own personal floating dock. The inflatable side tubes create enough stability to stand up and move around, while the flat, rigid deck makes you feel surefooted. The wide open deck space makes you feel less restricted too when the fish are biting hard.
In addition, the raft is plus-sized to accommodate big riders and all their gear. You really only need enough tackle, bait, and snacks for a day, which easily fit under the bungee straps at the front and back of the boat. This 'yak makes you feel like a modern-day Tom Sawyer, running away from home for an afternoon of adventure. Are you ready?
STAR Challenger Sit-On-Top
Specs
Length

:

10 ft 8 in

Weight

:

27 lb

Tandem

:

No

Rod Holders

:

No

Size Limit

:

Full-size adult and gear

Seat

:

Mesh folding seat with aluminum frame
Features
Thick, Superior Abrasion-Resistant Material Protects Against Punctures
Removable, Fold-Down Seat Gives You a Comfortable Fishing Perch
Comes With 2 Fins, Carry Bag, Pump, and Repair Kit
Five Accessory Mounts for Rod Holder, Fish Finders, or Stringers
D-Rings, Daisy Chain Rigging, and Bungee Tie Downs Offer Plentiful Storage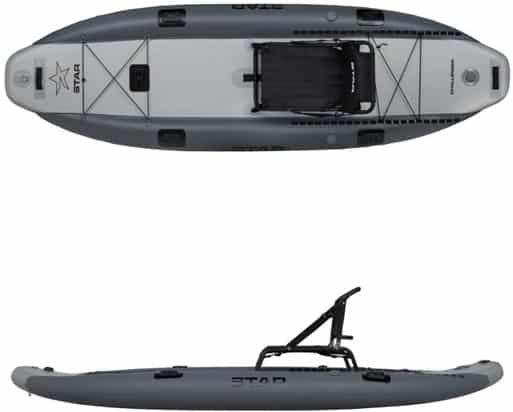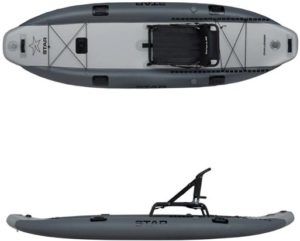 BEST FOR: FREEDOM TO STAND, SIT, AND KNEEL
Don't you ever wish you could go "offshore fishing" on a floating dock? You wish you could fish without being stationary or having to invest in a boat. Well, this kayak gives you that exact freedom at a reasonable price. Kind of like a cross between a kayak and a stand-up paddleboard, this raft gives you a spot to rest as you fish from any spot you choose instead of being restricted to public docks. It also offers plenty of standing deck space to move around.
Unlike a boat, you don't have to winterize or make any special preparations for this kayak. You can grab it out of storage and take a spontaneous fishing trip any time you want with nothing more than an air pump. Well, you might want to bring your paddle and fishing gear too, but the mounting system and generous storage setup makes that part easy too.
Advanced Elements Advancedframe Convertible
Specs
Length

:

15 ft

Weight

:

52 lb

Tandem

:

Yes

Rod Holders

:

No

Size Limit

:

550 lb

Seat

:

Adjustable, inflation-padded seats
Features
Multiple Chambers and Extra-Strength, Triple-Layer Material Keep the Boat Afloat
D-Rings and Front Bungee Storage for Cooler and Tackle
Removable Seats Allow You to Ride Tandem or Solo
Molded Rubber Handles Offer Easy Carry To and From the Water
Comes with Repair Kit and Duffel Bag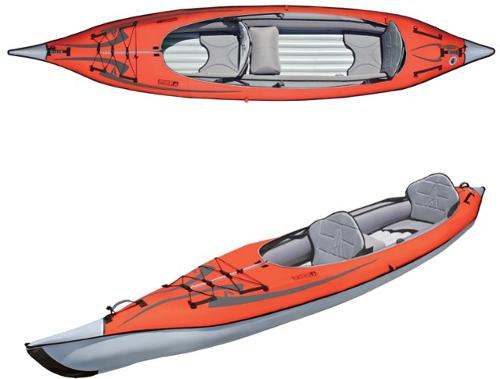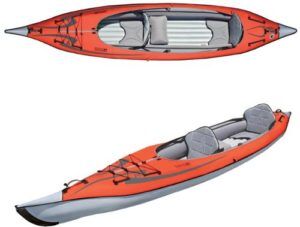 BEST FOR: JOINT ADVENTURES
Share your love of fishing with a partner or buddy with this two-seater. You'll have more than enough room for the two of you plus your equipment. You can personalize the deck to your specifications with the zip-in conversion system. That means, you can purchase spray skirts separately and zip them right to the kayak for a more sheltered ride.
You'll need to purchase your own electric or hand pump separately too, because this kayak doesn't come with one. That's a small price to pay for a reliable inflatable like this. With its aluminum frame, this kayak rivals hard-shell models without the issues of how to store and transport it. The frame gives the kayak rigid structure that helps it glide efficiently across the water to your secret fishing hole.
Advanced Elements Straitedge Angler Pro
Specs
Length

:

10 ft 6 in

Weight

:

45 lb

Tandem

:

No

Rod Holders

:

No

Size Limit

:

400 lb

Seat

:

Flip-down seat with aluminum frame
Features
Generous Front and Back Bungee Storage Areas
Rigid Floor for Standing
Mount System to Customize with Your Own Accessories
Aluminum Frame for Extra Stability and Tracking
Comes With Removable Fin, Duffel Bag, and a Repair Kit (pump sold separately)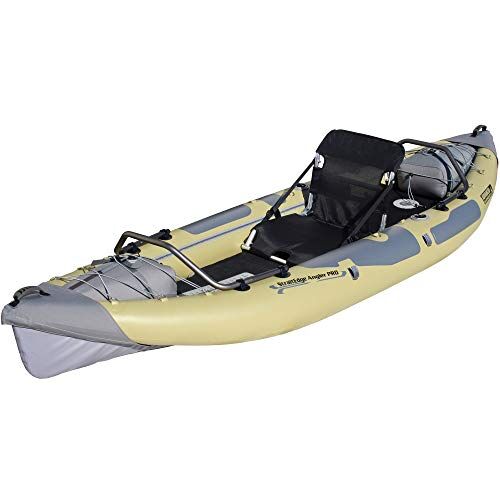 BEST FOR: SERIOUS ANGLERS
The StraitEdge Pro takes fishing seriously with its angling-friendly design. The hard floor and flip-down seat give you room to move around as you cast and net fish. The pontoon-like air chambers on the side keep you upright even if you have to lean over the side.
With its customizable mounting system, you can really make the kayak your own. Attach your own rod holders and fish finder to suit your preferences. It's also easy to access the bungee storage areas in front of and behind you. Hang your anchor and live bait from the D-rings, and you have the perfect fishing setup!
Intex Excursion Pro
Specs
Length

:

12 ft 6 in

Weight

:

39 lb

Tandem

:

Yes

Rod Holders

:

2

Size Limit

:

400 lb

Seat

:

2 Adjustable, Inflatable Bucket Seats
Features
Abrasion-, Impact-, and UV-Resistant Material
Two Sets of Adjustable Footrests for Proper Positioning
Comes With 2 Paddles, 2 Removable Fins, Pressure Gauge, Carry Bag, and Pump
Removable, Adjustable Mounting Bracket for Your Fishing Accessories
3 Air Chambers to Keep You Afloat Even if One Pops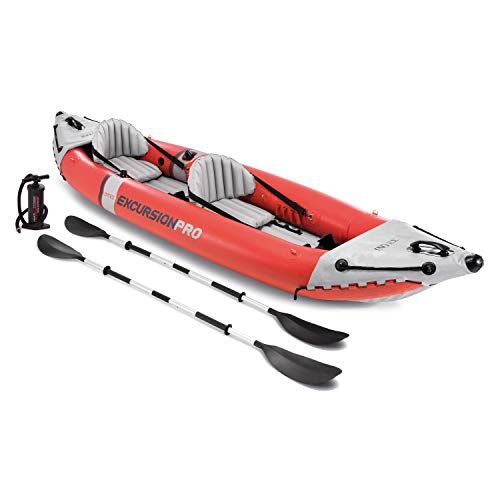 BEST FOR: BUDDY-SYSTEM FISHING
Even if you mostly fish alone, it's nice to have the option to bring a buddy along when you can. This two-seater can be adjusted to accommodate one or two riders with the movable seats and double set of footrests. There's room under the bow and stern for storage, so you can both reach your own things.
The kayak makes for a nice ride out to your favorite fishing hole too. Attach your fin, and the boat tracks nicely with maneuverable reliability. You can fish some of the shallowest, most remote waters and enjoy the view getting there!
Sevylor Coleman Colorado 2-Person
Specs
Length

:

12 ft 9 in

Weight

:

40.4 lb

Tandem

:

Yes

Rod Holders

:

Yes, 2 top-mounted holders

Size Limit

:

470 lb

Seat

:

Padded, Adjustable Seats
Features
Rugged, Puncture-Resistant Material and Multiple Air Chambers Keeps You Afloat
Trolling Motor Fittings for Your Own Accessories
Mesh Storage Pockets and D-Rings Secure Your Gear
Paddle Holders for Hands-Free Convenience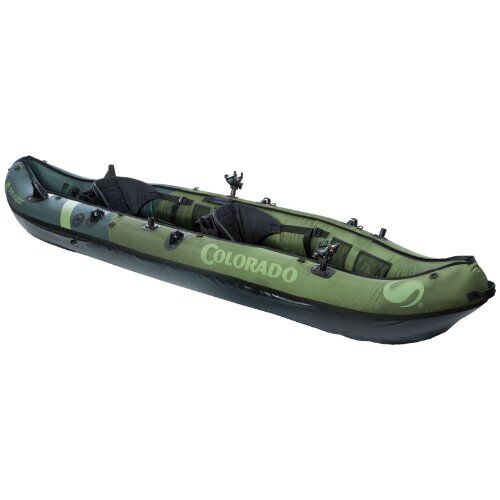 BEST FOR: LOW-PROFILE FISHING OR DUCK HUNTING
If you're an avid outdoorsperson with fishing and hunting in your blood, then the Coleman Colorado knows you best. You can glide into fishing or hunting hideouts unseen and experience nature in its untouched pureness from your buoyant perch.
The Colorado is equipped with several rod holders, trolling motor fittings, and plenty of ways to mount other equipment. Quick-access mesh pockets and D-rings hold your snacks and daily catch. If you want to share your experience with a fishing buddy, the second seat makes room for another angler. Store the inflatable kayak in the closet or basement during off-season and set it up in minutes whenever you feel a whim.
Intex Explorer K2
Specs
Length

:

10 ft 3 in

Weight

:

33.5 lb

Tandem

:

Yes

Rod Holders

:

No

Size Limit

:

400 lb

Seat

:

2 Inflatable, Adjustable Seats
Features
Comes with 2 Paddles, Air Pump, Fin, Repair Kit, and Carry Bag
Grab Lines at Both Ends for Hauling or Adding Accessories
Heavy-Duty, Puncture-Resistant Material and 2 Air Chambers to Keep You Afloat
Inflatable Floor Beams to Increase Rigidity
Bright Yellow Color Increases Visibility on the Waterway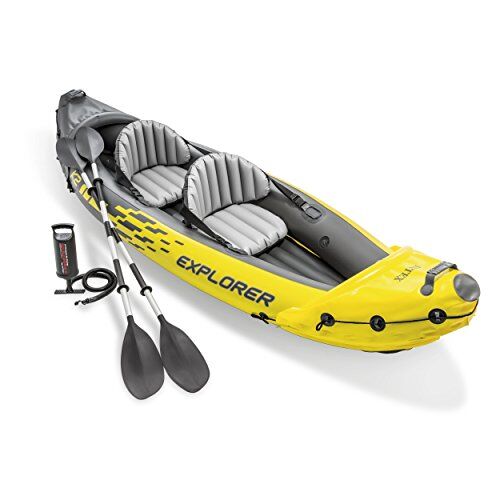 BEST FOR: TIGHT BUDGETS
This kayak wasn't specifically designed for fishing, but it provides great angler-worthy features that can certainly be adapted for fishing, especially if you have a limited budget. Although the boat comes with two seats, you can easily remove one seat and add a cooler, tackle box, and bait bucket behind your seat. You should be able to find a cooler or tackle box with built-in rod holders to take care of that need too.
The rigid deck floor gives you a nice, stable perch to cast and reel. Then, you can hang your daily catch from a stringer attached to the deck rigging. This inexpensive kayak gets you to where the fish are, and that's what's important.
Intex Challenger K1
Specs
Length

:

9 ft

Weight

:

27.2 lb

Tandem

:

No

Rod Holders

:

No

Size Limit

:

220 lb

Seat

:

Inflatable seat
Features
Inflatable Floor Beams for Extra Stability
Front Cargo Net to Slide Your Tackle and Cooler Under
Grab Lines on Both Ends For Easy Carrying
Inflatable Seat with Backrest
Comes with a Paddle, Carry Bag, Hand Pump, and Repair Kit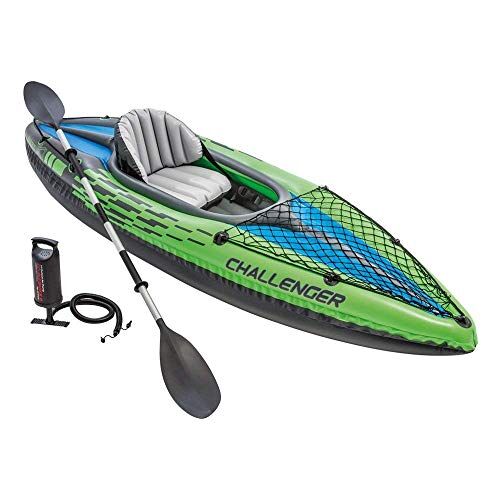 BEST FOR: FISHING MINIMALISM
If you like fishing with a side of simplicity, then the Challenger K1 has your best interests in mind. You should be able to carry and inflate the kayak easily by yourself. And you can keep the entire boat in your trunk in case you get off work early and feel like throwing out a line.
This inflatable kayak is the most affordable one on this entire list, but it doesn't sacrifice any of the safety features you want on an inflatable raft. Heavy-duty material covers two separate air chambers so if one were to pop, the other would keep you afloat. The inflatable floor beams provide additional buoyancy and rigidity to the floor. If you decide to sleep out under the stars, you can remove the floor and use it as a blow-up mattress.
THINGS TO CONSIDER WHEN BUYING AN INFLATABLE FISHING KAYAK
COST
The price range of inflatable kayaks varies greatly depending on what it's made out of and what kinds of features it offers. If you don't have much cash to spare, stay on the lower end until you can upgrade. If you'd spare no expense, check out the higher-end models to see which is your favorite.
SAFETY
Many people are concerned about kayaking in a blow-up boat. However, modern developments have made inflatable kayaks more safe than ever. Most inflatable kayaks nowadays are made with puncture-resistant materials that shouldn't pop in the first place. They also have multiple air chambers to ensure they stay afloat if one part does pop. Repair kits are pretty standard with inflatables too, which allow you to patch holes on the water. If you're still concerned about the safety of an inflatable kayak, read this.
WEIGHT
Inflatable kayaks are generally pretty light, usually about the size of a small child. Most of them come with a carry bag for single-handed carry. The tandem models tend to be slightly heavier, but you'll have a partner to carry them to the water with you. Make sure to check the kayak weight to be sure you can carry your kayak to the water by yourself or with some help.
PASSENGER SIZE
Remember the weight limit on these kayaks includes you, your ride-alongs, and your gear, so be sure to find a kayak that accommodates all of that. Make sure you don't weigh your kayak down too heavily or underinflate it for the best results.
FEATURES
Some anglers expect their fishing kayaks to come with rod holders and fishfinders and trolling motor mounts. Some others are just looking for a kayak that floats. Otherwise, they might be looking for something in-between. If you're looking for specific features, be sure to read through the product descriptions to make sure the kayak has what you're looking for.
CAPACITY
The kayaks on this list hold either one or two passengers. Determine whether you plan to only go fishing alone or if you want the ability to take another person with you. Again, make sure to check the weight limit to ensure you, your passengers, and your gear fit within the limit.
FEATURES EXPLAINED
FOOTRESTS
Kayaks usually come with a pedal or platform to brace your legs. Footrests allow you to stabilize your body as you paddle side to side. Footrests should have multiple positions to accommodate riders of different sizes.
FIN
A tracking fin, or skeg, is a little fin-like piece you attach to the bottom of your kayak. The fin keeps your kayak pointed in the direction you want to paddle. Without the fin, your kayak can get pushed around more easily by the wind and water currents.
THWART
A thwart is a brace placed crosswise near the center of the boat for support. Its purpose is to help prevent the sides of the inflatable kayak, especially long tandem ones, from bending inward.
DECK
The deck on a kayak is the surface you sit or stand on. Some inflatable kayaks have soft,flexible decks while others have rigid decks. It's important to find a rigid deck if you want to be able to stand up and move around on deck.
DECK RIGGING
Deck bungee rigging or grab lines are usually bungee cords attached to the sides of the boat. You can use grab lines to launch your kayak or pull it onto the shoreline. Sometimes fisherman like to use deck rigging to hang additional accessories such as live bait tanks or fish stringers.
SPLASH GUARD
A splash guard is a piece of material at the front of the boat that acts sort of like a mini windshield. It blocks some of the water from splashing aboard and getting you all wet. Some kayaks come with built-in splash guards, but you can usually add them if they don't.
MOUNT
Some inflatable kayaks come with hard plastic mounting brackets where you can slide your own attachments on. You can attach additional rod holders, fish finders, cup holders, and other compatible accessories to the mounts to really make the kayak your own.
AIR CHAMBERS
Air chambers refer to the tubes that hold the air in an inflatable kayak. Most kayaks come with more than a single air chamber for safety reasons. If one chamber pops, then you have one or more additional air chambers keeping the kayak afloat.
READ MORE
For more of our top kayak fishing gear recommendations, check out these popular buyer's guides: