Updated on February 22, 2022
One of the most up close and personal fishing experiences you can have is from the deck of a kayak. You can explore out of the way streams and get within reaching distance of the water without motor noises interrupting your serenity. If you're in the market for an amazing fishing setup, here you'll find the best sit-on-top fishing kayaks.
Sit-on-top kayaks allow you to move around with less restriction than a sit-inside model, which is especially useful when you need to net a fish. With these sit-on-top kayaks, you get your own personal floating dock with access to the furthest reaches of the water, where the fishing is rich and the traffic is nearly nonexistent.
For more of our top kayak fishing gear recommendations, check out the Best Fishing Kayaks.
Quick Answer

-

The Best Sit On Top Fishing Kayaks
Wilderness Systems Tarpon 105

Wilderness Systems Radar 135

Old Town Topwater 106 Angler
Comparison Table

-

Best Sit On Top Fishing Kayak

For the best experience turn your device horizontally
Reviews

-

The Best Sit On Top Kayak for Fishing
Lifetime Tamarack Angler
Specs
Best Use

:

Flatwater

Length

:

10 ft

Weight

:

58 lbs

Weight Capacity

:

275 lbs

Rod Holders

:

1 top mounted and 2 flush mounted holders

Seat

:

Padded seat back and bottom
Features
Multiple Footrest Positions to Accommodate Different Riders
Front and Back Bungee Storage Compartments for Storing A Cooler and/or Tackle
Front and Center Storage Hatches for Storing Items You Want to Keep Dry
Stability Chine Rails (See Features Explained) and Deep Grooves on the Underside Offer Utmost Stability
Paddle Cradle Holds Your Paddle and Frees Up Your Hands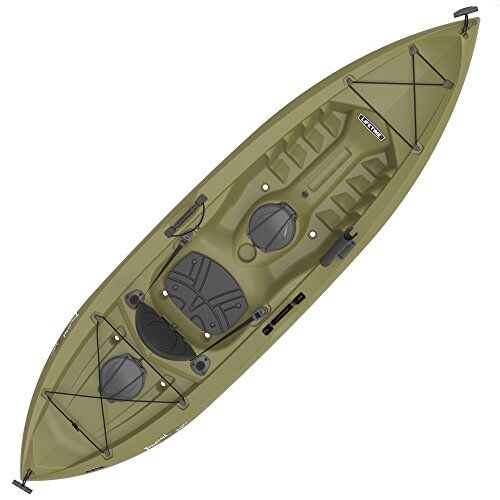 BEST FOR: SPONTANEOUS FISHING TRIPS
The Tamarack opens up new possibilities for water sports at camp or the cabin. It doesn't take much to gather a pole or two and some bait and tackle and see what's biting out on the pond. The boat was built to be ultra stable, which is perfect for teens and visitors too.
The affordable price makes kayak fishing accessible to anyone. While it doesn't have all the bells and whistles of a higher-end model, it gives you access to more fishing locations than you could ever get on shore. If you're not worried about all the extra features, you'll do just fine with the Tamarack.
Wilderness Systems Tarpon 105
Specs
Best Use

:

Flatwater and light surf

Length

:

10 ft 6 in

Weight

:

55 lb

Weight Capacity

:

325 lb

Rod Holders

:

None

Seat

:

Deluxe adjustable, padded seat with mesh ventilation
Features
Two Dry Hatches And A Bungee-Strapped Tank For Storage
Adjustable Foot Braces To Help You Find The Right Position
Deck Rigging Where You Can Attach Your Own Mounts
Front And Back Grab Handles To Carry The Kayak
Reachable Cup Holder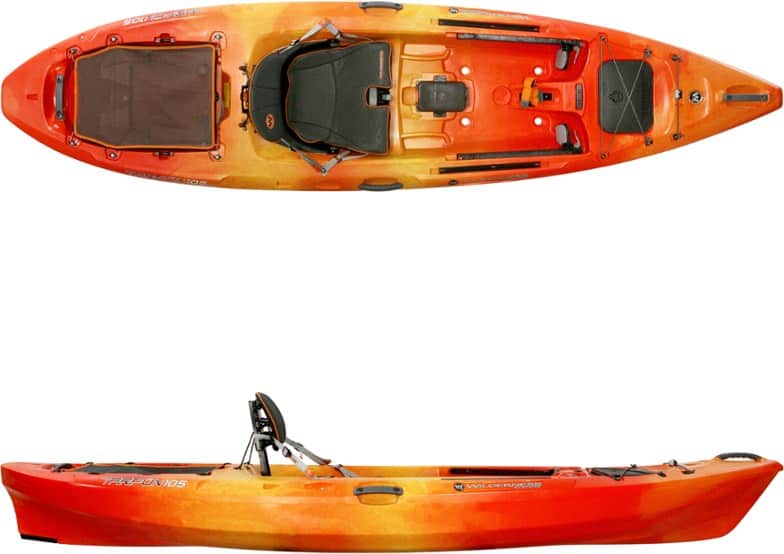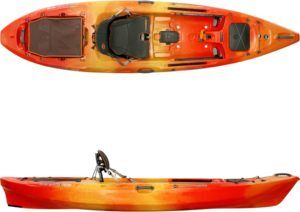 BEST FOR: CASUAL FISHING AS AN ESCAPE
If you're looking for a way to escape that doesn't take much planning, then you should add the Tarpon to your list of runaway supplies. All you need is your pole, some bait, and a few hours to kick back in the plushest-as-kayaks-go seat. If you don't feel like fishing today, your planning is even simpler! Just launch the boat from any point along the shore and let your escape begin.
The Tarpon doesn't come with traditional fishing hookups like rod holders, but it offers plenty of attachment points where you can add them and make the 'yak your own. Put your bait and drink under your seat and get out there to see what's biting.
Perception Pescador 10
Specs
Best Use

:

Flatwater

Length

:

10 ft 6 in

Weight

:

57 lbs

Weight Capacity

:

325 lbs

Rod Holders

:

Yes, rear molded holders

Seat

:

Adjustable, padded seat
Features
Front Storage Hatch and Rear Bungee-Corded Tank for Storage
Molded Cup and Paddle Holders Within Reach
Adjustable Foot Braces Help You Find the Right Position
Molded Front, Back, and Side Carry Handles
Gear Tracks Where You Can Add Your Own Accessories

BEST FOR: TRANSITIONING BETWEEN FISHING AND RECREATIONAL USE
This fishing-ready boat can be customized to meet your angling needs. You can deck out the gear tracks with your favorite fishing mounts and pack your tackle and poles into the storage wells and molded rod holders. Even without all the hookups, the kayak can be used for fun days out on the water, fishing or not.
The 10' Pescador may not be the best choice if you want to be able to stand up in your kayak. While the kayak feels stable and tracks nicely, standing isn't recommended. Feel free to hang your feet over the sides and cool yourself off though!
Old Town Predator PDL
Specs
Best Use

:

Flatwater

Length

:

12 ft 2 in

Weight

:

117 lbs

Weight Capacity

:

500 lbs

Rod Holders

:

3 Flush-Mount Holders

Seat

:

Adjustable Seat
Features
Pedal Motor and Rudder to Add Speed to Your Stroke
Non-Slip Deck to Help You Keep Your Footing While Standing
6 Removable Mounting Plates so You Can Accessorize as You Wish
Front Hatch and Rear Bungee-Corded Tank Well for Storage
Front and Side Handles for Carrying to Your Launch Point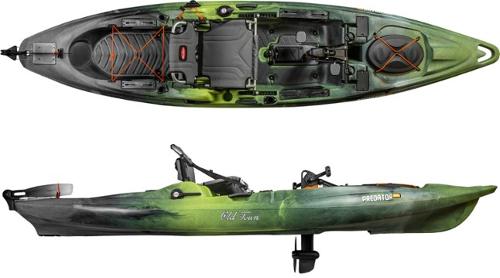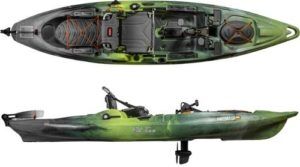 BEST FOR: THE HARDCORE ANGLER
While kayaking is largely an upper-body sport, the Predator balances out the upper-body with lower-body work. The kayak uses pedal-propelled power that allows you to control your boat when your hands are busy casting and reeling. The pedal system also adds momentum to your paddle strokes when you want to make some real headway on the water.
Aside from the notable steering features, this premium kayak is an angler's top choice. It's decked out with mounts and storage galore for everything you could possibly need to fish for a long time. Be careful though, because the kayak may be hard for one person to handle on land, especially weighed down with gear.
Wilderness Systems Radar 135
Specs
Best Use

:

Flatwater to Mildly Choppy

Length

:

13 ft 6 in

Weight

:

90 lbs

Weight Capacity

:

475 lbs

Rod Holders

:

None

Seat

:

Adjustable Mesh Suspension Seat
Features
Front and Middle Hatches and Rear Bungee-Corded Tank for Storage
Adjustable Foot Pegs to Help You Achieve the Best Sitting Position
Pedal- and Rudder-Ready to Add Power to Your Stroke
Ergonomic Front and Back Handles For Carrying the Boat on Land
Gear Tracks Where You Can Add Your Own Accessories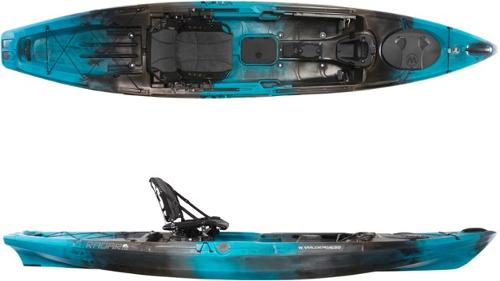 BEST FOR: CALM AND MILDLY CHOPPY RIVERS AND LAKES
If you like the idea of having a pedal kayak like the Predator kayak above, but the cost of the Predator doesn't line up with your budget, then the Radar might be a sensible option. This kayak comes equipped with built-in attachment points for a pedal system and rudder, should you choose to add them.
The Radar can take quite a beating, even if the wind picks up while you're out fishing. Along with durability, the SMART principle behind the design emphasizes Stability, Maneuverability, Acceleration, Responsiveness, and Tracking. This 'yak is a workhorse that leaves you with plenty of energy leftover to fish your favorite spots.
Old Town Topwater 106 Angler
Specs
Best Use

:

Flatwater

Length

:

10 ft 6 in

Weight

:

73 lbs

Weight Capacity

:

440 lbs

Rod Holders

:

3

Seat

:

Breathable Seat with High/Low Positions
Features
Flat, Barrel-Like Hull, or Underside, for Maximum Stability
Universal Mount For Your Own Fishfinder
Onboard Rod and Tackle Storage and Accessory Tracks for Organization
Covered Front Tank Well and Rear Bungee Storage Tank
Foam Deck Pads to Avoid Slipping and Foot Fatigue
BEST FOR: FISHING IN STEALTH MODE
Take your rod to the Old Town road and ride until you can't no more. The Topwater keeps you comfortable and has a generous storage capacity for multi-day fishing trips. The specially-designed pontoon hull, or flat, barrel-like underside, lets you sneak up quietly on fish without wasted effort. It also provides a stable base for stand-up fishing.
Every inch of the boat has a fishing-specific purpose. Two rod holders behind the seat, one in front, and two under-seat rod storage positions let you bring several poles. The fishfinder mounting system and accessory tracks allow you to attach your gadgets in minutes. Despite all of that, the boat still gives you breathing room to enjoy your getaway.
Sun Dolphin Boss SS
Specs
Best Use

:

Flatwater

Length

:

12 ft 3 in

Weight

:

78 lbs

Weight Capacity

:

500 lbs

Rod Holders

:

5

Seat

:

Dual-Position, Fold-Down Seat
Features
Flat Stable Bottom for Easy Standing
Front and Back Bungee-Corded Tanks for Storing Your Gear
Non-Slip Pads to Give You Good Footing While Standing
Front, Back, and Side Handles for Carrying to the Shoreline
Built-In Paddle Holders to Keep Your Hands Free For Casting And Reeling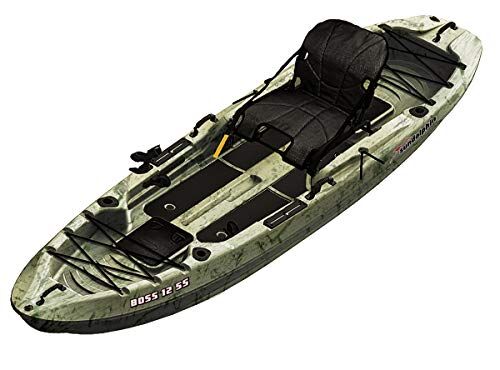 BEST FOR: LOTS OF STANDING TIME
If you're the type of angler who likes to move around on your feet, then you'll appreciate the Boss. This kayak is built like your own personal floating dock with its flat, stable bottom, large open cockpit (or sitting area), and non-skid floor. Stand to reel, kneel to net a fish, or sit to give your legs a rest–this 'yak lets you do it all.
At the lower end of the price range, you get a pretty sweet fishing setup too with 5 rod holders and plenty of storage space for your tools and tackle. The 'yak has all the accessories you need to enjoy a productive (or relaxing) day on the water.
Vibe Kayaks Skipjack 90
Specs
Best Use

:

Flatwater and Ocean Surf

Length

:

9 ft

Weight

:

46 lbs

Weight Capacity

:

300 lbs

Rod Holders

:

4 Flush Holders

Seat

:

Ergonomic back and seat cushion
Features
Comes With a Paddle, So You Don't Have to Purchase it Separately
Front and Back Bungee-Corded Tanks and Center Hatch for Storage
Molded Paddle Rests, Center Cup Holder, and Storage Trays
Multiple Footrest Positions to Accommodate Different Riders
Fish Finder Mount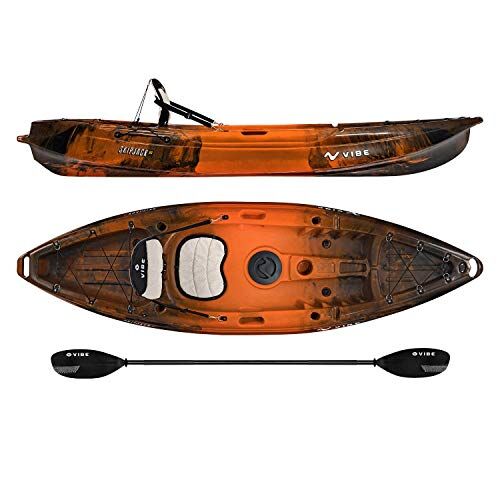 BEST FOR: ADVENTURE-READY FISHERS
If you're ready to go fishing, like yesterday, then this kayak package takes you there. As soon as the kayak and included paddle reach your doorstep, you can initiate launch. If you plan to fish, make sure to throw a few necessities onboard before you go. If you plan to be out for awhile, you may want to add extra cushioning to the seat as the lack of support is a common complaint.
The exuberant color options give you an expressive alternative to your standard camo. It also helps you stand out to passing boats and hunters. You can further accessorize the 'yak to suit your preferences with the onboard mounting system. Cast a line, "you" style.
THINGS TO CONSIDER WHEN BUYING A SIT ON TOP FISHING KAYAK
COST
The kayaks on this list range from a few hundred to several thousand dollars. You need to determine a price range you're comfortable with before making your selection. You can find a fun, reliable model for a low price (this list is for the "best" after all). But if you have more wiggle room and want a more decked-out 'yak, then the boats on the higher end of the price range may interest you.
WEIGHT
Solid sit-on-top kayaks tend to lean more toward the heavy side. If you tend to go fishing alone, make sure you have a way to get your kayak to shore without help. You may be able to lift some of the kayaks on this list by yourself. Others require two-person carry or a kayak dolly to get them to and from the shore.
PASSENGER SIZE
Each kayak here accommodates riders of different sizes. Make sure your weight plus the weight of onboard equipment falls below the kayak's suggested weight limit for the most efficient ride. Your height may make a difference too. All the kayaks here have variable footrest positions, but if you're on the tall or short side, you should check to make sure your legs are comfortable inside.
FEATURES
Figure out which features are non-negotiable and which features would be nice to have and narrow your selection based on that. If you're dead-set on rod holders galore or dry storage, then use your list to make a choice. It also helps to list out what tackle and gear you want to bring along and check to make sure your kayak has the storage capacity to hold it.
DESIRED USE
Most of the kayaks on this list work best on for flatwater fishing, but a few can handle some light waves. But how you want to use your kayak from there matters. Do you like to be able to stand up and fish? Are you interested in kayaking for fun as well as for fishing? Take your intended use into consideration to choose the right model.
FEATURES EXPLAINED
FOOTRESTS
When you paddle a kayak, you need a way to brace your feet. Footrests give you a place to brace your legs. Some kayaks come with footrests molded into the plastic while others have movable foot rests so you can find the position that works best for you.
DECK AND COCKPIT
The cockpit of the boat is the inside area that you occupy. The deck is the floorspace along the bottom of the boat that you stand on. Learn more specifics about the parts of a kayak here.
HULL
The underside of a kayak is referred to as the hull. The design of the hull affects how the kayak rides, including how stable and fast it moves. Flat or pontoon hulls feel very stable while V-shaped hulls feel tipsy but move faster.
CHINE
If you divide the hull in half lengthwise, each half is called a chine. If multiple step-like levels make up the chine, it's called a multi-chine hull. Chine rails are flat areas or grooves on the hull that increase stability.
STORAGE TANK OR HATCH
Storage tanks are recessed storage compartments, typically secured with bungee cords. Storage hatches are lidded storage compartments that help keep your belongings dry. Many paddlers add liners to their hatches to keep items contained.
DECK RIGGING
Deck rigging, stern stringers, or grab lines are all names for bungee cords that run along the sides of the boat. The ropes can be used to pull the kayak, attach accessories, or hang an anchor or fish stringer.
GEAR TRACKS
Gear tracks are grooves along the sides of the kayak where you can attach your accessories. With gear tracks, you don't have to drill holes or make any other modifications to the kayak to add your accessories. You can slide compatible rod holders, fish finders, cup holders, and other attachments into these universal tracks with the proper fittings.
READ MORE
For more of our top kayak fishing gear recommendations, check out these popular buyer's guides: