Updated on February 7, 2020
The Salar de Uyuni covers 10,582 square kilometers, making it the biggest salt flat in the world. We were in the southwest of Bolivia so we couldn't let the opportunity of visiting it passing by. We loaded our bikes with a week worth of food and left the busy town of Oruro. We were in for an adventure: crossing the Salar on our bicycles.
It had been almost two months since we had done a long bicycle route. We had been busy hiking all over the Peruvian Andes. The last one had been the amazing Huascaran Circuit in Peru, and we were looking forward to enjoy a new cycling adventure.
We were out of cycling shape so we decided to start in Oruro, to enjoy a couple of days of flat, easy and paved roads to get back into it. Once you leave the town of Salinas, the pavement disappears and the adventure begins.
GETTING TO THE SALAR
Although it's possible to reach the Salar in one day from the town of Uyuni, we were coming from the north and decided to take the detour to Salinas and enter the Salar from there. This meant 3 days of relatively easy cycling from Oruro, plus a very tough day from Salinas to Tahua, the entrance of the Salar.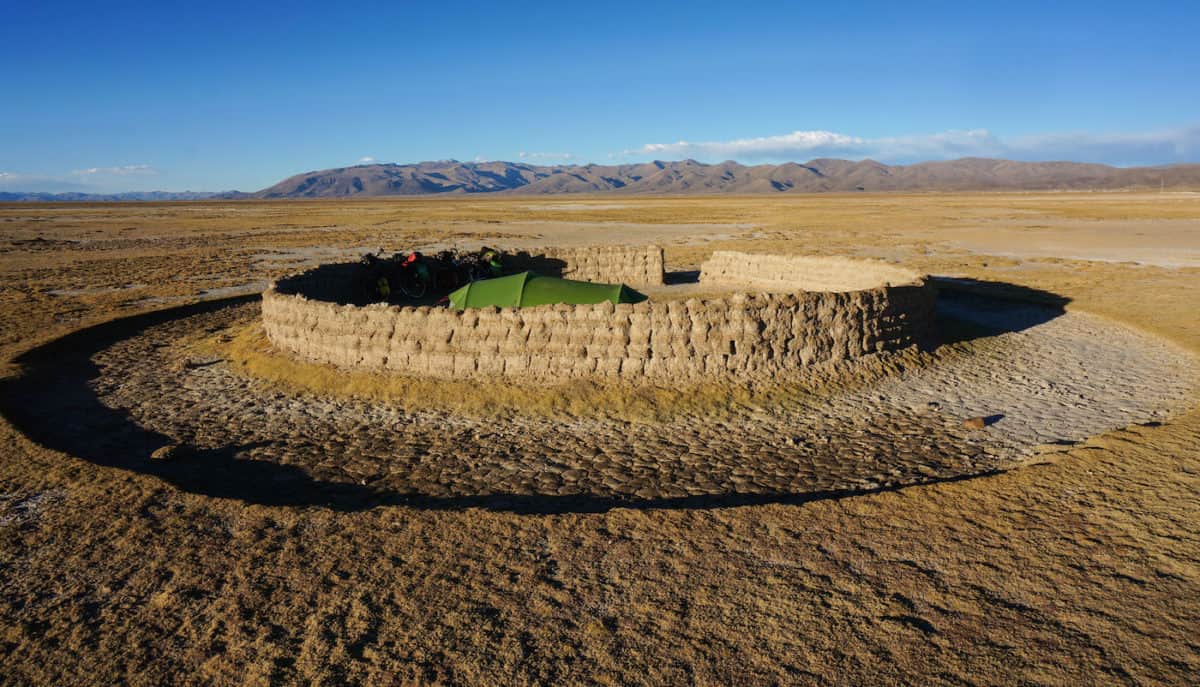 It's a long day of unpaved roads, washboards and every cyclist's worst nightmare: deep soft sand. Pushing your bike for several kilometers is needed and together with a strong head wind, makes this stretch very challenging.
But once you hit the salt flats everything seems worth it. You instantly forget those hours pushing your bike and start enjoying this very unique experience.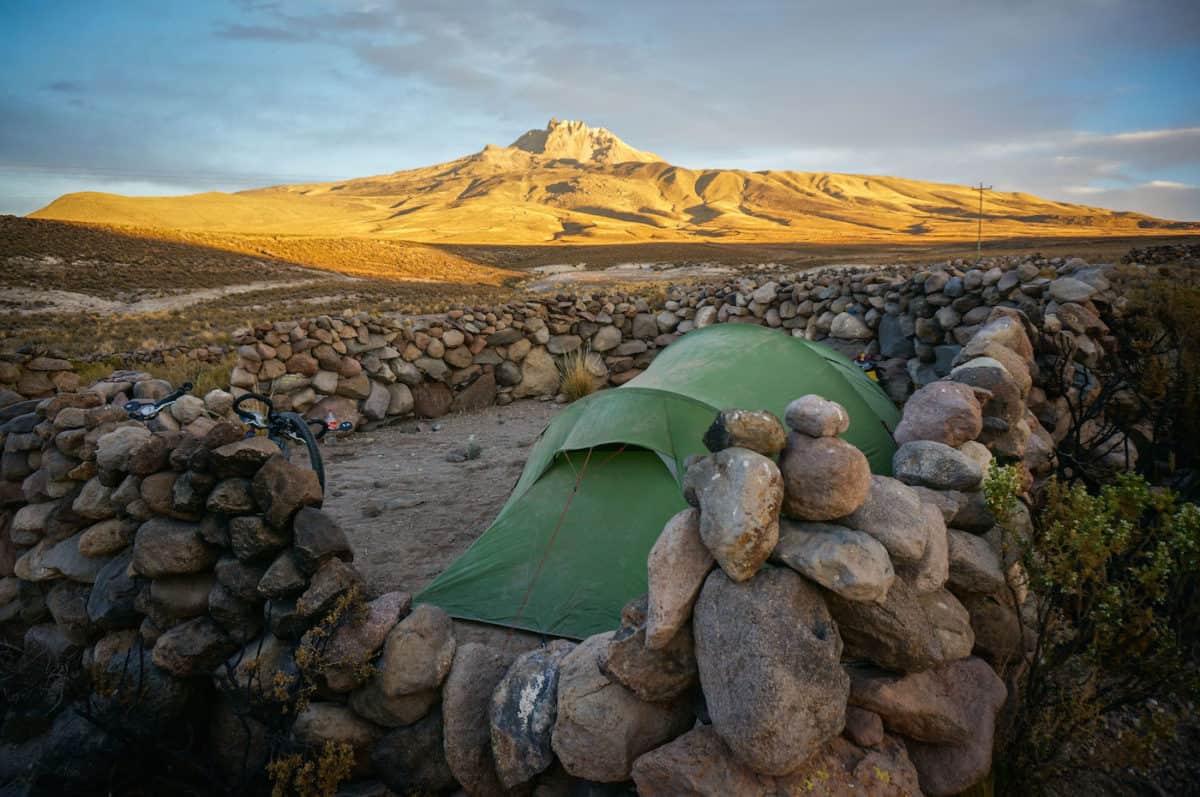 CROSSING THE WORLD'S BIGGEST SALT FLATS ON A BICYCLE
It's hard to explain with words the feeling of cycling on the salar. There's hardly any references on the horizon and being surrounded by salt in every direction for kilometers is quite impressive.
There are some paths made by the jeeps you can take, but you also have the freedom to cycle in any direction. You could even cycle with your eyes closed for hours without crashing into anything! After cycling dirt roads, dodging rocks and sand patches to get here, the salar's hard, flat surface is a dream.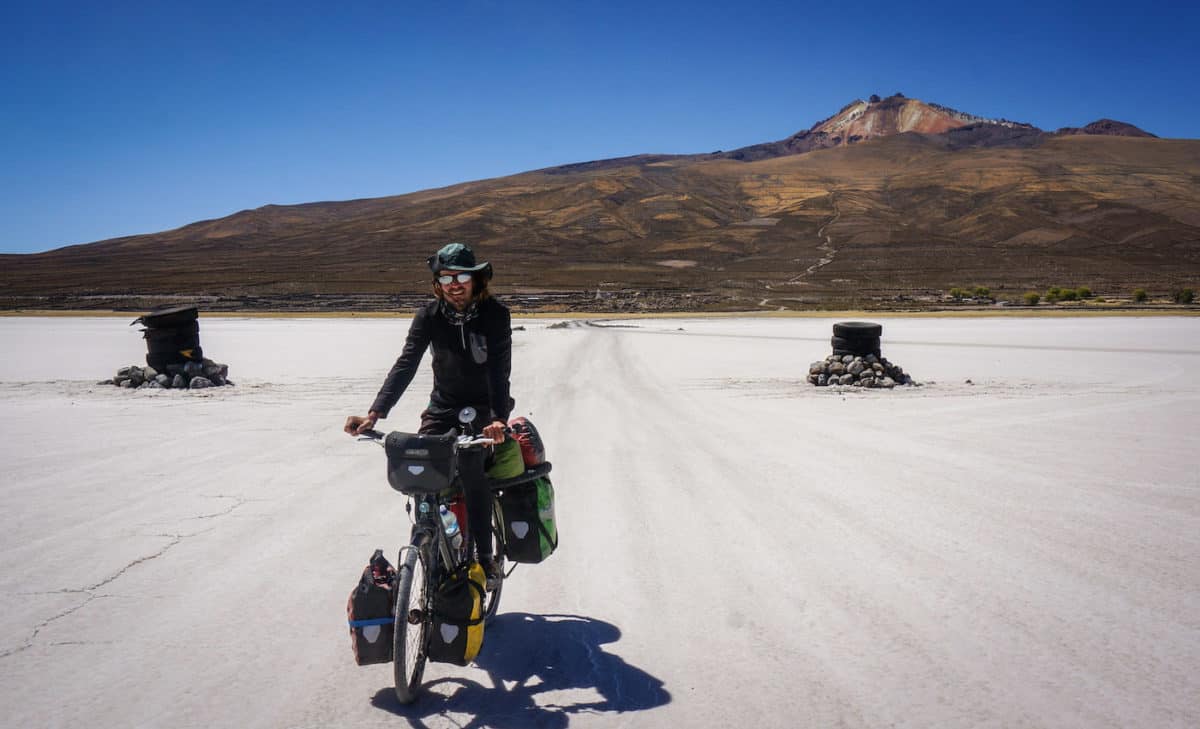 When it comes time to camp, this hard surface becomes a real nightmare. When we tried to hammer the tent stakes into the ground, they bent. We just couldn't do it, but that didn't stop us from camping with our tent tied to our bicycle and panniers. Wind gusts were well over 120 km/h during the evening but hey, we were there for adventure, right?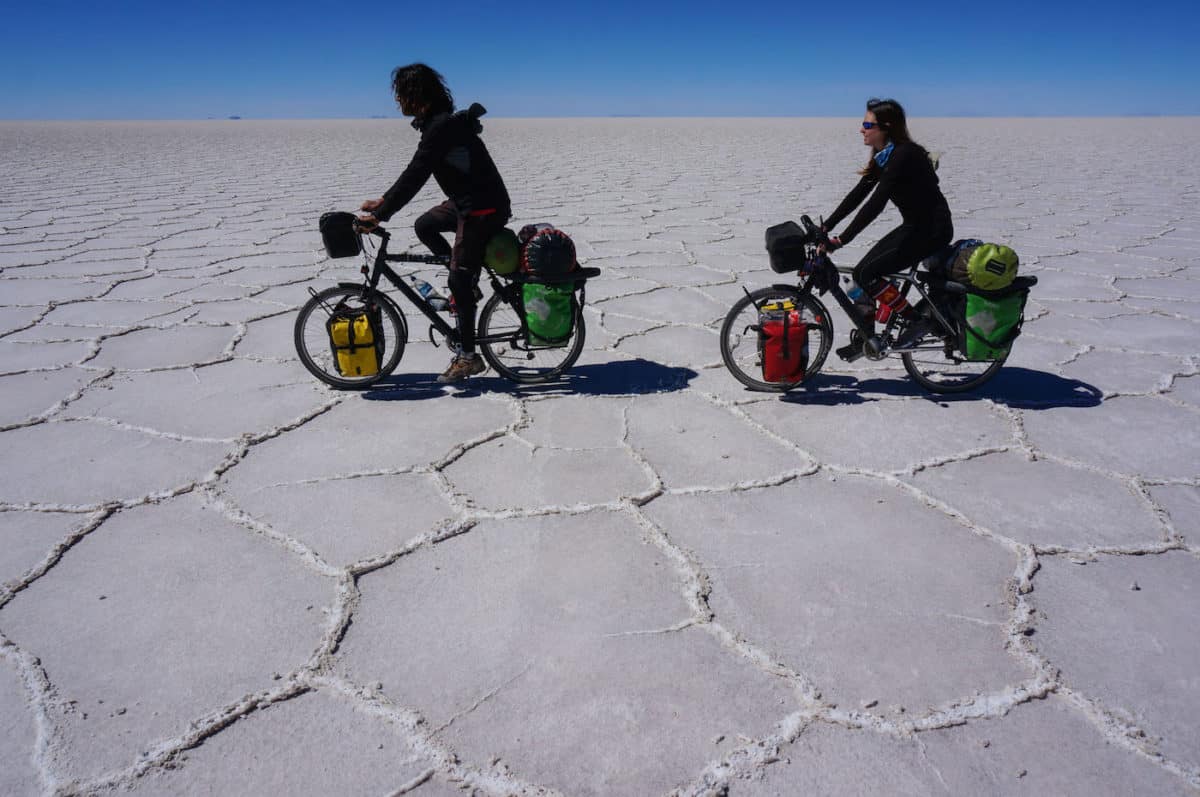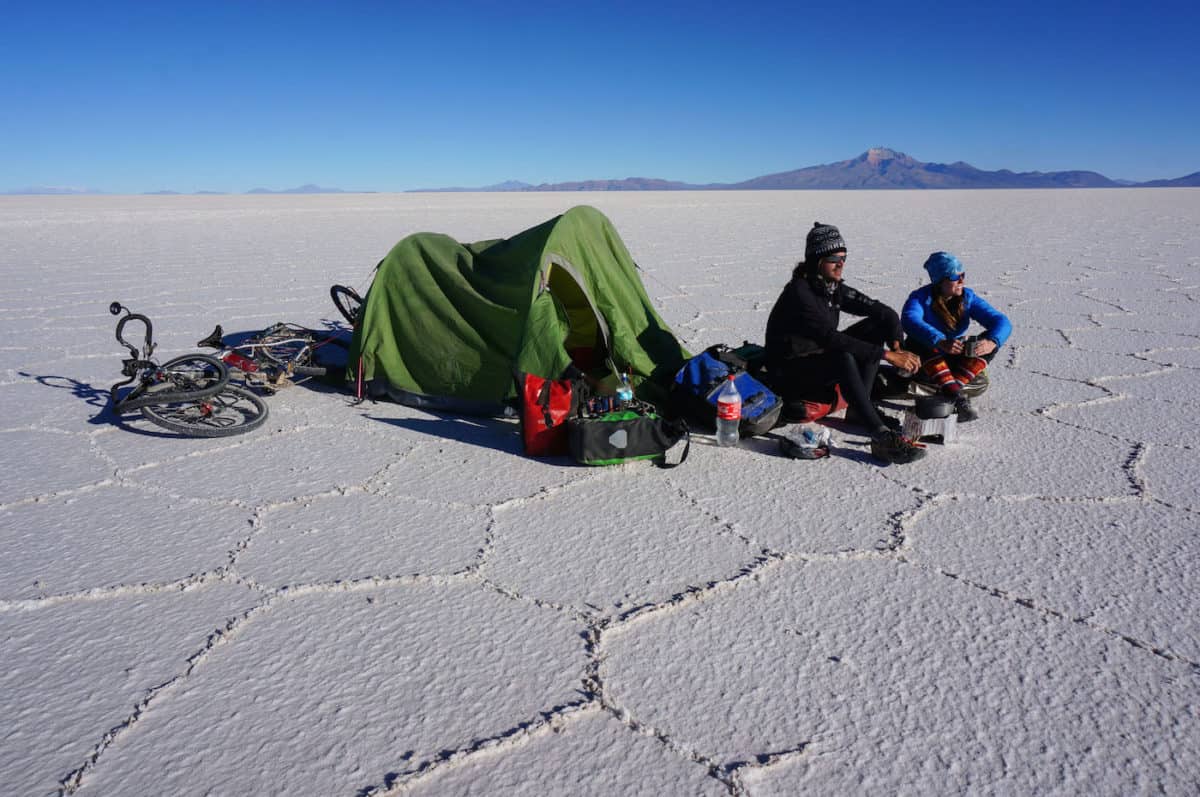 If you plan to camp in el Salar, don't forget to get some stones to be able to dig the tent pegs into the salt. Even with a stone, you will need good quality pegs to do that.
The whole route from Oruro to Uyuni takes 5-6 days to complete. To cross el Salar completely, you will need a minimum of 6 hours to do so.
Dry season is ideal, from May to September.
It's recommended to stock up in Oruro on fresh products such as fruits and vegetables. You will only find can products and pasta/rice/oats in the little towns you will pass through.
RECOMMENDED GUIDE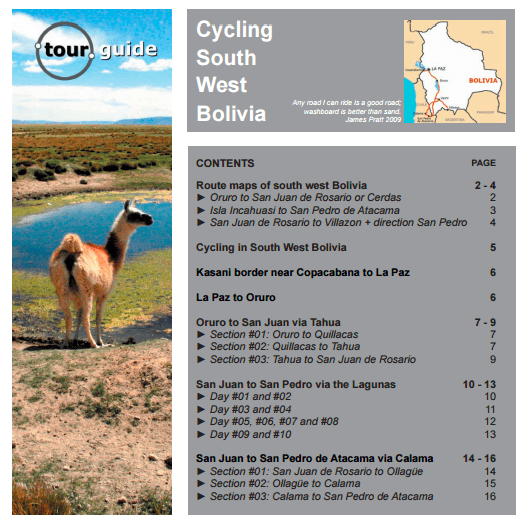 If you are looking to explore the southwest of Bolivia on your bicycle, this guide is all you need. Written by Sonia Spry & Aaldrik Mulder, the team at tour.tk, this free downloadable PDF contains all the information about roads, food & water supplies, estimated cycling times and much more. Writen by cyclists for cyclists.
WHAT WE LIKED THE MOST
+ The incredible sensation of isolation while camping in el Salar.
+ Cycling on the salt flats with no references on the horizon.
WHAT WE DIDN'T LIKE THAT MUCH
– The road from Oruro to Salinas is monotonous and boring.
-The wind! We encountered crazy wind gusts while camping in el Salar.
VIDEO: CAMPING IN EL SALAR DE UYUNI, BOLIVIA
FINAL THOUGHTS
Cycling the Salar de Uyuni was a fun cycling experience that you can't miss if exploring Bolivia. Riding on the salt flats with no references on the horizon is an incredible experience like no other.
If you have proper camping gear, camping shouldn't be missed either. To get in and out of the salt flats you will need to suffer some sandy, unpaved and rocky roads, but the effort will be highly compensated once you hit the Salar.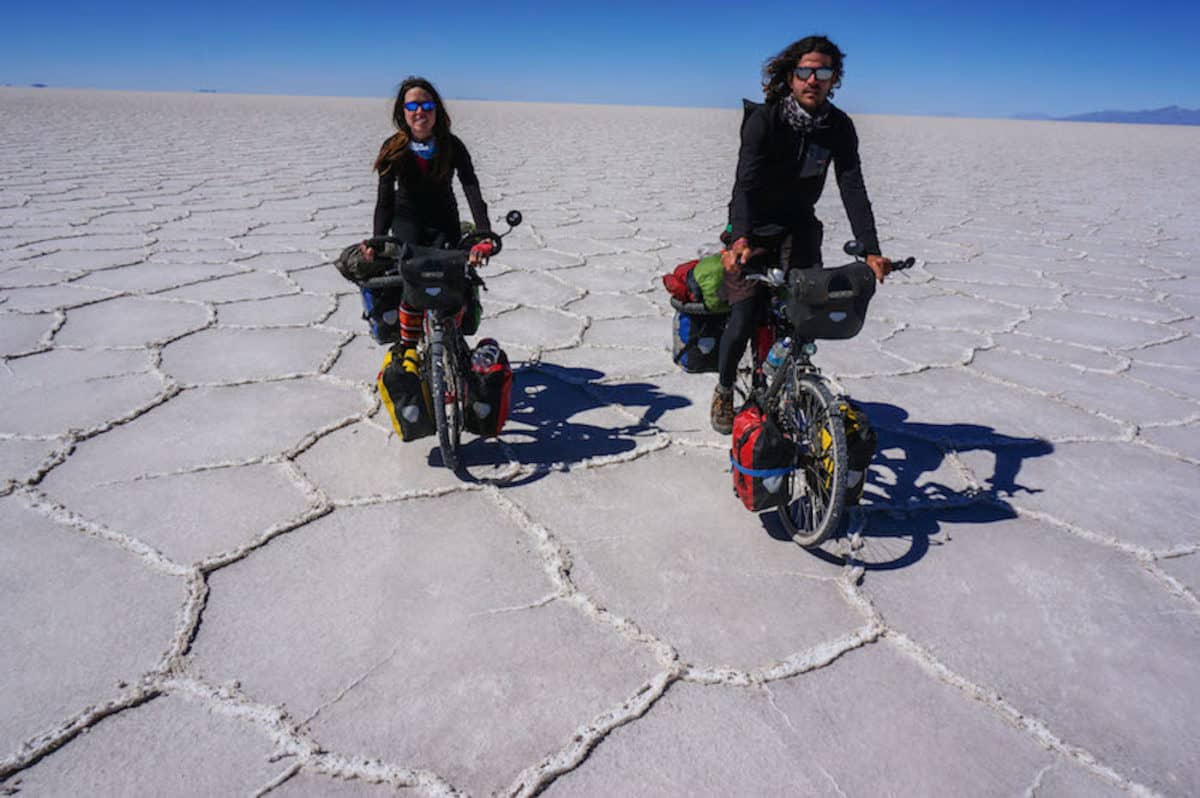 Location: Salar de Uyuni, Bolivia.
Price: Free. You only need your bicycle and your legs!
Useful Notes: Make sure you plan on bringing enough food for the ride. Stocking up in Oruro (specially on fruits & vegetables) is the best option.
READ MORE
For more of our top bicycle touring gear recommendations, check out these popular buyer's guides: