Updated on September 28, 2020
We all want two different sleeping bags on a bike tour. The bag we carry all day should weigh almost nothing and take up almost no space. The bag we sleep in at night should be lofty, spacious, comfy, and warm. The perfect combination of those qualities may be an impossible dream, but sleeping bag manufacturers get closer to it every year. This list of the best sleeping bags for bike touring should help you choose the right one for your next cycle tour.
Choosing a sleeping bag is a personal decision, and you'll have to consider where you'll be riding, the likely temperature and weather, and your body shape, sleeping style, budget, and other preferences before making a choice. What works best for one rider may not be right for another, even in similar conditions, but there's a bag on the market to make almost anyone happy!
For more of our top bike touring gear recommendations, check out the Best Tents for Bike Touring.
Quick Answer

-

The Best Sleeping Bags for Bike Touring
Sea to Summit Spark SpII 28
Comparison Table

-

Best Sleeping Bag for Bike Touring

For the best experience turn your device horizontally
Reviews

-

The Best Bike Touring Sleeping Bag
Marmot NanoWave 45
Specs
Fill Weight

:

13.9 oz

Insulation

:

Synthetic

Length

:

72"

Weight

:

1.8 lbs

Shape

:

Mummy

Volume

:

05.0 L

Temp Rating

:

56 F

Stuff Sack Size

:

6x11"

Fill Power

:

Spirafil
Features
Snagless Draft Tube Keeps Cold Air From Seeping Through Zipper
Zipper Wraps Around Foot Box For Easy Ventilation
"Feely" Drawcords For Easy Adjustment Even In The Dark
Synthetic Proprietary Insulation Traps Warmth Even When Wet


BEST BACKPACKING SLEEPING BAG UNDER $100
The Marmot Nanowave 45 is an affordable summer sleeping bag that won't take up too much room in your backpack. Not only is it cheap, it's practical and functional which is why it's our pick for the best backpacking sleeping bag under $100.
In awarding it the winner of the best under $100 category, we realize it's not quite fair because most other bags on this list have a temperature rating down to around 20 degrees. However, if you're on a super tight budget and plan to camp from mid-spring to mid-fall, the Nanowave 45 is hard to beat.
Which leads us to the biggest downside of this bag, it is only good in mild weather. But, not everyone needs or wants a super warm bag and if you combine the Nanowave with an extra warm sleeping pad and a thermal liner, you might be able to extend the temperature range of this bag down a few degrees, making it much more versatile. If you're looking for a warmer budget backpacking sleeping bag, check out the REI Trailbreak 20 which is also featured on this list.
The Marmot Nanowave is also available in a 55-degree and 35-degree version.
Sea to Summit Spark SpII 28
Specs
Fill Weight

:

11.0 oz

Insulation

:

Down

Length

:

72"

Weight

:

1 lbs 02 oz

Shape

:

Mummy

Volume

:

06.6 L

Temp Rating

:

38 F

Stuff Sack Size

:

4x7"

Fill Power

:

850
Features
Superlight Fabrics For Minimum Weight And Size
Vertical Chest Baffles Prevent Down Migration, Keeping The Bag Lofty And Warm
Ultra-Dry Treated Water-Resistant Down
⅓ Length Zipper Minimizes Weight


If you're touring in relatively warm weather and looking for the absolute lightest, smallest option of the market, here it is. The Spark SPL 40 weighs just over a pound and packs down to an astonishing 4×7 inches. If you don't have space in your panniers you could almost put it in your pocket! Don't expect a large array of features: everything that can be trimmed back has been. Even the zipper has been cut to ¾ length. This one is all about carrying less of everything.
This bag uses the lightest possible shell fabrics as part of that focus on dropping every possible ounce. That leaves it a bit on the fragile side, so you'll need to be careful to keep it away from sharp objects or tear-prone situations. It's probably not the best choice if there will be a dog in your tent!
Therm-a-Rest Hyperion
Specs
Insulation

:

900 fill-power down

Length

:

72"

Weight

:

1 lb. 6 oz.

Shape

:

Mummy

Temp Rating

:

20 degrees (winter bag)

Stuff Sack Size

:

6x8"
Features
Treated Hydrophobic Down Resists Water
Zoned Insulation Puts Warmth Where You Need It
Water-Repellent Shell Fabric Keeps Insulation Dry
SynergyLink Connectors Link Bag With A Therm-A-Rest Pad


BEST WINTER TOURING BAG
Turns out you really can have it all: the Hyperion 20 weighs just over a pound, packs into a 6×8" stuff sack, and will keep you warm well into sub-freezing conditions. Treated down and a durable water-resistant shell provide exceptional resistance to moisture. The down is carefully distributed to eliminate cold spots and put the warmth where you most need it. The bag is even designed to integrate with your Therm-A-Rest pad, so you stay on your pad and receive the full benefit of its insulating capacity.
The only real downside to all this is the price: this is an expensive piece of gear. If you're going to be touring in cold weather and you want the optimal combination of high warmth, low weight, and low bulk, it's worth the cost.
REI Co-op Trailbreak 20
Specs
Fill Weight

:

N/A

Insulation

:

Synthetic

Length

:

72"

Weight

:

3 lbs 07 oz

Shape

:

Mummy

Volume

:

12.0 L

Temp Rating

:

29 F

Stuff Sack Size

:

9x16"

Fill Power

:

Polyester
Features
3-Panel Hood Contours Closely To The Head
Face Muffler And Draft Tube Keep Cold Air Out
Durable Water Repellent Shell Keeps Insulation Dry
Compression Stuff Sack Packs Small


BEST BUDGET COLD-WEATHER BAG
Cold-weather touring on a budget requires some compromises, and a sleeping bag is likely to be one of them. We all want a light, compact bag, but when the temperature drops into the sub-freezing range, warmth is more important. If you'll be riding in the rain and you want a synthetic-fill bag that can insulate even when wet, or if you just don't want to spend the cash for a high-end down bag, the Trailbreak 20 will deliver affordable warmth down to sub-freezing levels.
The downside will be a bit more bulk and weight than you might want to carry on a bike trip, but if the alternative is frigid nights, it might be worth it. This is a full-featured cold-weather bag that will keep you warm, and that's worth a bit of extra weight! The weight and bulk penalty is not excessive considering the combination of warmth, quality, and price, so if you're looking for an affordable cold-weather synthetic-fill bag, take a close look at this one.
REI Co-op Magma 30
Specs
Insulation

:

850 fill power down

Length

:

72"

Weight

:

1 lb 4 oz.

Shape

:

Mummy

Temp Rating

:

30 Degrees (3-season bag)

Stuff Sack Size

:

4.75x13"
Features
Generous Knee And Foot Space
Anti-Snag Strip And Hybrid Zipper Path For Easy Zipping And Unzipping
Contoured Hood With Two Adjustments
Insulated Yoke Prevents Heat Loss At Neck And Shoulders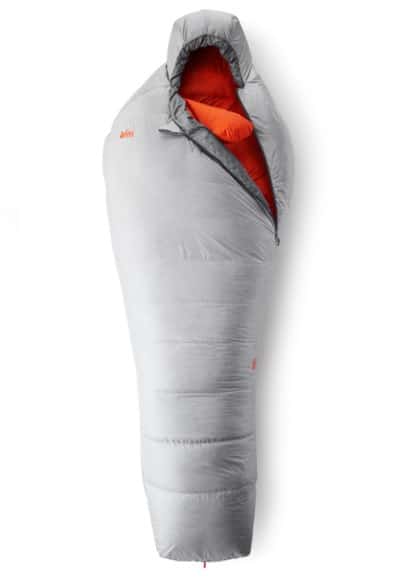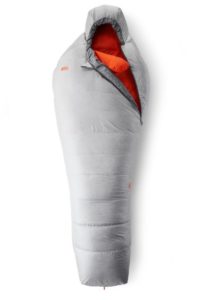 BEST ALL-AROUND DOWN BAG
Bike touring demands light, compact gear, and nothing delivers light, compact performance like a good down sleeping bag. The REI Magma 30 is one of the top all-around performers in the niche. It weighs in at just over a pound, packs small, and delivers an exceptional warmth-to-weight ratio. If you want an all-around 3-season bag that will serve in anything but extreme cold, this will be one of your top options.
This is a great choice if you need a bag to use in a wide variety of conditions. It's likely to be on the warm side for pure summer conditions, so if you're all about warm weather touring you might want to look for something with less loft. If you're looking for versatility, look no further!
THINGS TO CONSIDER WHEN BUYING A SLEEPING BAG FOR BIKE TOURING
Size and weight are primary considerations in packing for a bike tour, but you'll want to think about warmth and comfort as well: a lighter load during the day is a poor tradeoff for a series of shivering nights! Before you choose a sleeping bag for bike touring, you should have an honest assessment of the conditions you'll be facing and your own personal preferences in bag size and warmth.
Temperature ratings are a good general guideline, but some individuals are "warm sleepers" or "cold sleepers whose comfort range can be well outside these guidelines. Knowing how much insulation and how much interior pace you prefer will help you select the right bag for you. There are a few choices to consider.
BAG SHAPE
Almost all touring cyclists prefer the mummy shape, which is lighter and more compact than wider designs. Mummy bags vary considerably in width, so if you don't like being wrapped too tight at night, you may want to choose a wider mummy bag.
INSULATION TYPE
Down is lighter and packs smaller than any other insulation. Synthetic insulation still has a place, especially for cyclists with limited budgets. The main drawback of down is that it doesn't handle moisture well: the down can mat and clump and may need professional cleaning to restore its loft after getting wet. Modern treated down has much better water resistance than old school down insulation and many down bags now use DWR (durable water repellent) coatings to keep the insulation dry, but if there's a chance of a real soaking, a synthetic-fill bag might be a better bet.
TEMPERATURE RATINGS
Temperature rating tests approved by the ISO and EN rating systems will produce two ratings for every product. The "comfort" rating provides comfort to an average sleeper, the "lower" limit is the minimum temperature at which the bag is recommended for use. A bag with these two numbers has probably been ISO or EN rated. Some manufacturers use their own ratings, based on their own experience.
Temperature ratings that work for one person may not work for another, so consider your own preferences and sleeping style. Remember that temperatures on your trip could get colder than you expect!
SEASONAL CLASSIFICATIONS
Many bag manufacturers classify sleeping bags in three general groups depending on the temperature rating of the sleeping bag.
Bags rated at 40 degrees (F) and above are considered summer bags

Bags rated from 15 to 39 degrees (F) are considered "three-season" bags

Bags rated below 15 degrees (F) are considered "winter bags"
Again, those temperatures may not match the seasons in your location!
LEARN MORE
REI has a good guide to buying a backpacking sleeping bag that you might want to read over before making your final decision about which bag is right for you from the list above.
FEATURES EXPLAINED
INSULATION TYPE
DOWN
The inner feathers of geese or ducks are the preferred insulator for sleeping bags. They are very light and very compressible, and they can be compressed over and over again without losing their ability to expand to their full loft. Several types of down are often seen in sleeping bag descriptions.
WATER REPELLENT DOWN
Also known as water-resistant down, this is down insulation that has been given a chemical treatment that allows it to resist moisture. These treatments are very effective and has made down a match for synthetics in all but the wettest temperatures. Even treated down will not stand up very well to full immersion or a total soaking!
RESPONSIBLE DOWN STANDARD (RDS)
RDS down comes from suppliers who meet strict standards for animal treatment.
FILL WEIGHT
Fill weight describes the ability of down to expand and fill space. Higher fill weight indicates higher quality down. The highest quality down is 800 to 900 fill weight. Higher fill weights are, naturally, more expensive.
SYNTHETIC INSULATION
Sleeping bags with synthetic insulation use mats of polyester fibers to fill out the bag and create insulating air space. Many manufacturers have proprietary names for the compounds and processes they use. Synthetic insulation is cheaper and handles water better than down, but it's also heavier and bulkier.
ZIPPERS
Sleeping bags usually close with a full-length zipper on one side. Some have zippers on both sides for added ventilation. Left and right zipper bags of some brands can be zipped together to create a double sleeping bag. Not all bags have this feature, so check first if you will be sharing your bags!
Anti-Snag Zippers prevent bag fabric from getting sucked into the zipper, which can damage zippers and fabrics and can be difficult to disentangle.
Draft tubes are tubes of insulation-filed material that lie behind the zipper, preventing cold air from entering through the uninsulated zipper.
SHELL FABRICS
Shell fabrics hold the sleeping bag's insulation in place. Ultralight bags may use very thin shell fabrics that are prone to ripping or punctures, so if you're looking for the very lightest bag you should be prepared to treat the bag carefully. Many shell fabrics are coated to provide extra water resistance.
BAFFLES
Baffles are compartments that hold insulation in place. Baffles prevent cold spots and keep down where it's most needed, and manufacturers are constantly trying out new baffle designs and arrangements in an effort to improve insulating value.
STUFF SACK
Many sleeping bags come with two sacks: a loose bag for storage and a compression sack that squeezes the bag to its lowest possible volume for packing. Bags last longer if stored in the looser sack.
READ MORE
For more of our top bicycle touring gear recommendations, check out these popular buyer's guides: