Updated on January 1, 2021
What was going to be a couple of weeks to get from Costa Rica to Colombia, ended up being 5 months. That is the time we spent in Panama, but the touring part was just a fraction of that. We decided to stop in Santa Catalina for 4 months to wait for the rains to pass and to make some money working as scuba guides to Coiba Island.

In our opinion, Panama is not the best destination for bicycle tourers. The country is interesting and has incredible things to do and spots to visit, but the best part is always when you get off your bike. However, there is no way to by pass it if you are on your way to South America.

In total we spent 13 days on the saddle. The budget section of this article only focuses on those cycling days, as the rest of the time we were living in the country and not traveling on our bicycles.

The costs are in USD (american dollars) and are PER PERSON.
COSTS
Total Spent: 97.63 USD
Average spent per day: 7.50 USD
LODGING
Total Spent: 23.50 USD
Average spent per day: 1.80 USD
FOOD
Total Spent: 73.12 USD
Average spent per day: 5.62 USD
OTHERS
Total Spent: 1.00 USD
Average spent per day: 0.07 USD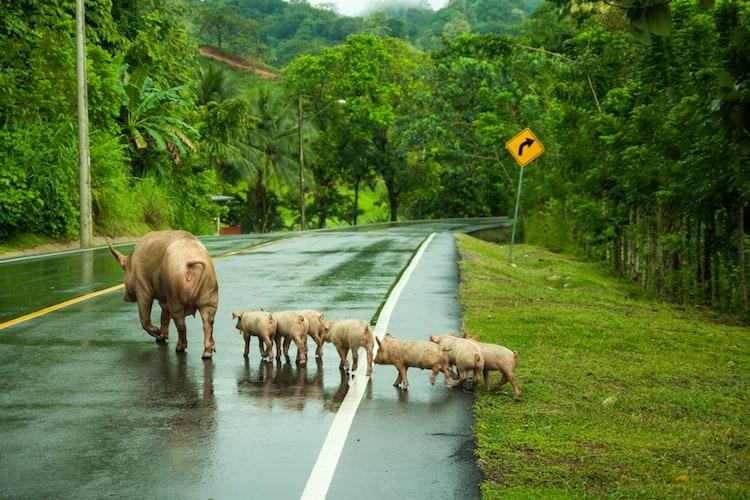 ON THE BIKE
Total: 13 Days
Total pedalled: 722 Kms (448 mi)
Kms/day: 63.23 Kms (39 mi)
If you plan to stick to the inter-americana all the way to Panama City, be ready for some boring and uninteresting cycling. The traffic is heavy on this road, there is little shade, it's hot and the scenery is not very attractive. However, the drivers are among the best we've experienced in Central America. You can check the route we followed here.
If you have spare time and want to explore some quieter areas we highly recommend to take the backroads of Veraguas around Soná and all the way to Santa Catalina. You will have great scenery, small towns and very little traffic.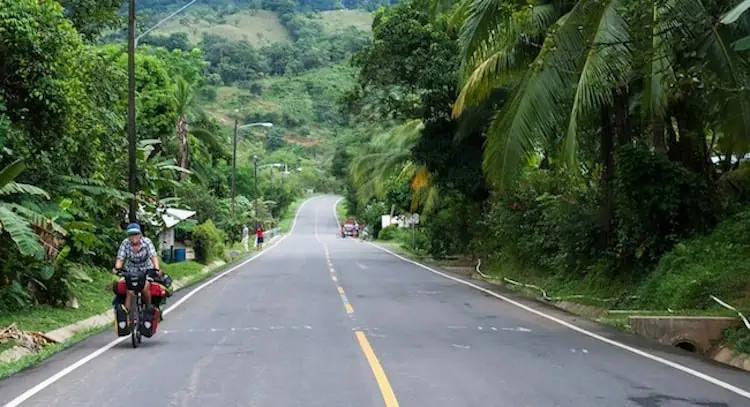 LODGING
Total : 13 Days
Days paid to sleep: 2 Days
Days not paid to sleep 11 Days
Showers: 10 (We are way too clean!)
Hostel-hotel : 2 Days
Host – Friends: 1 Days
Place :  8 Days
Camping: 2 Days
Paid: 0 Days

Unpaid: 2 Days
Cheap sleeps are not as available in Panama as in the rest of Central America. Dorm beds start at $10 and double rooms at $20. However we hardly took any room as finding a place to pitch your tent was very easy. Panamanians are friendly, especially in the country side, and they never turned us down when we asked for a place to sleep. We stayed at the bomberos several times as well as in local schools, petrol stations, restaurants and even at a major's house one night!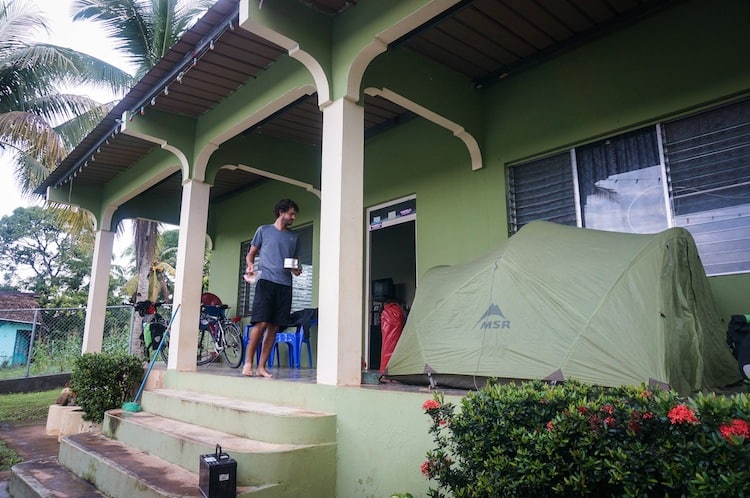 FOOD & DRINK
We found Panama lacked the great selection of street food you can find in neigbour countries like Colombia or Mexico. A set meal in a roadside restaurant costs around 2.50-4.00 USD. This is usually a combination of rice, beans, salad and some sort of meat (being chicken the most popular). Supermarkets are cheap and well-stocked. For hard-to-find products we recommend "Romero" where a wider selection is available.
The great news about Panama is that beer and rum are cheap and good. A can of "Balboa" can cost as low as $0.50 and a 350ml bottle of rum (Abuelo) around $4.00.
READ MORE
For more of our top bicycle touring gear recommendations, check out these popular buyer's guides: