Updated on November 21, 2021
There are few feelings as delicious as snuggling into a warm sleeping bag at the end of a glorious day on the trail, and there are few feelings as disturbing as sliding into your sleeping bag and realizing that it's not warm enough and you're in for a sleepless, shivering night. Your sleeping bag can make or break your backpacking trip, so you need to choose the right one. It's not easy: there are hundreds of bags on the market, offering different shapes, sizes, insulation types, and temperature ratings at wildly different prices. We've made your choice a bit simpler by selecting ten of the best backpacking sleeping bags for different price ranges and seasonal needs.
For more of our top backpacking gear recommendations, check out these popular articles:
Women's Backpacking Sleeping Bags | Budget Sleeping Bags | Lightweight Sleeping Bags
Summer Sleeping Bags | Sleeping Bag Liners | Down Sleeping Bags | Double Sleeping Bags
Winter Sleeping Bags | 20 Degree Sleeping Bags
Quick Answer

-

The Best Backpacking Sleeping Bags
Western Mountaineering MegaLite

Feathered Friends Hummingbird UL 30
Comparison Table

-

Best Sleeping Bags for Backpacking
Reviews

-

Best Backpacking Sleeping Bags
Western Mountaineering MegaLite
Specs
Insulation

:

Down

Length

:

67 inches

Weight

:

1 lb 8 oz

Shape

:

Mummy

Temperature Rating

:

30 F

Stuff Sack Size

:

7 x 12 inches
Features
850-fill down
Water-resistant coating
Continuous baffle system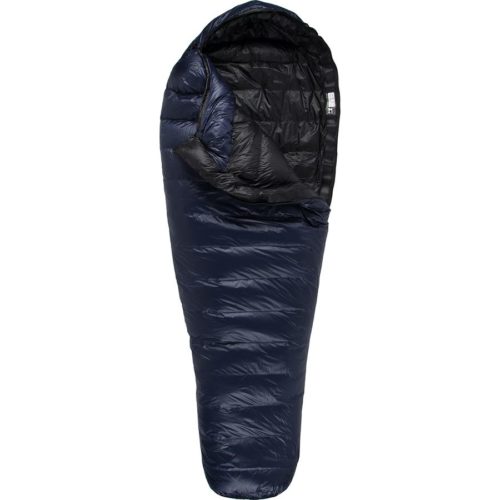 BEST OVERALL SLEEPING BAG
The MegaLite was designed to be more spacious than Western Mountaineering's coveted ExtremeLite bag, featuring 64 inches of shoulder girth. The bag boasts an impressive warmth to weight ratio and continuous baffles throughout. It packs down to a little over 7 liters and weighs in at just over 1.5 pounds.
What we like most about this sleeping bag is that as with most of Western Mountaineering's sleeping bag line-up, the MegaLite is considerably warmer than its assigned temperature rating. For a backpacking sleeping bag, this is the most spacious and comfortable in its class.
Kelty Cosmic 20
Specs
Insulation

:

Down

Length

:

72 inches

Weight

:

2 lbs 10 oz

Shape

:

Mummy

Temperature Rating

:

21 F

Stuff Sack Size

:

8 x 13 inches
Features
550-fill down
C0 and PFC-free durable water repellent (DWR) coating
Internal zippered stash pocket

BEST FOR: BUDGET BACKPACKING
Kelty updated the Cosmic 20 from last year with a thinner, 20-denier shell fabric that created for an overall lighter product. The sleeping bag is constructed from hydrophobic down and features dual-sliding anti-sag zippers, which provide for excellent ventilation.
What we like most about this bag — besides its affordable price — is the 50-denier polyester taffeta lining, which feels like silk against your skin.
Feathered Friends Hummingbird UL 30
Specs
Insulation

:

Down

Length

:

72 inches

Weight

:

24 oz - 21.3 oz

Shape

:

Mummy

Temperature Rating

:

20 or 30 F
Features
Trapezoidal footbox
Continuous baffles
3D contoured hood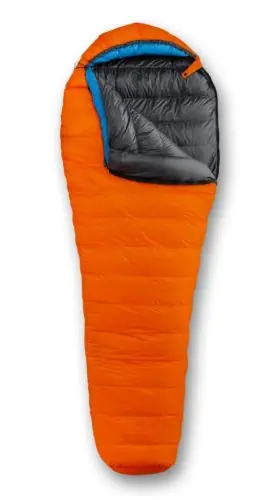 BEST FOR: ULTRALIGHT BACKPACKING
If you're looking for one of the warmest, lightweight bags in its class, look no further — the Hummingbird UL has you covered. The Hummingbird UL 30 was designed with 950 plus fill power down insulation that creates for impressive loft for its weight. A full-length snag-proof zipper provides for adequate ventilation in warmer temperatures, making it a versatile option for most seasons.
What could be improved about the Hummingbird UL is how noisy the Pertex Shell outer fabric is, which could be a problem especially for light sleepers. It's also pretty narrow with only 58 inches of shoulder girth and wouldn't be ideal for backpackers with wide shoulders.
NEMO Kyan 35
Specs
Insulation

:

Synthetic

Length

:

72

Weight

:

1 lb 12 oz

Shape

:

Mummy

Temperature Rating

:

35

Stuff Sack Size

:

7 x 13 inches
Features
Thermo Gills
Ripstop nylon fabric
Full-length zipper with a snagless baffle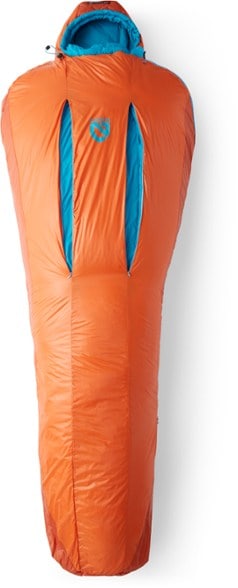 BEST SYNTHETIC OPTION
If you plan on backpacking in super wet conditions where a down bag is less than ideal, consider the NEMO Kyan 35 instead. This bag weighs in at just under 2 pounds and the PrimaLoft Silver synthetic insulation provides for a pretty outstanding warmth to weight ratio. NEMO's proprietary "gills" allow for superior ventilation and the snag-free zipper is full-full-length.
This bag packs down to 6.6 liters, making it an impressive competitor compared to down bags in its class. It's also inexpensive at $200, just $20 more than our budget pick.
NEMO Disco 15
Specs
Insulation

:

Down

Length

:

72 inches

Weight

:

2 lbs 11 oz

Shape

:

Semirectangular

Temperature Rating

:

14 F

Stuff Sack Size

:

9 x 12 inches
Features
650-fill-power down
Full-length, 2-way zipper
External draft collar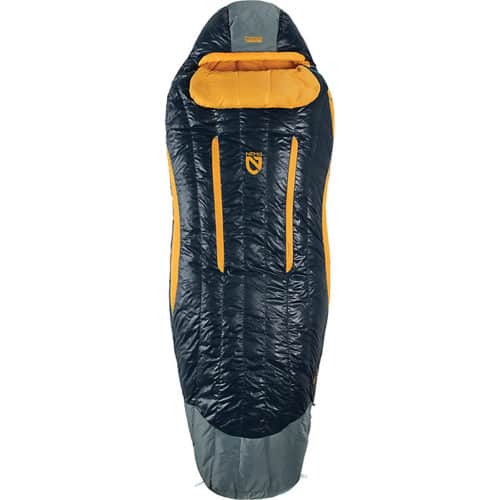 BEST FOR: SIDE SLEEPERS
For those of you that toss and turn, the Disco was designed to keep you comfy all through the night. NEMO's Disco 15 is designed in a spoon-shape as opposed to the traditional mummy bags on the market. It features the brand's ventilation Thermo Gills and has a waterproof toe box feature, which is pretty unique. It also includes a built-in pillow sleeve.
What we like most about the Disco 15 is how roomy and comfortable it is. The brand designed the bag to be wide through the knees and the elbows, addressing two the most common complaints we hear from side sleepers.
Marmot Trestles 30
View Women's Version
Specs
Insulation

:

Synthetic

Length

:

72 inches

Weight

:

3 lbs 1 oz (Heavy)

Shape

:

Mummy

Temperature Rating

:

30 degrees (F)

Stuff Sack Size

:

8.5 x 18 inches
Features
External Stash Pocket For Storing Nighttime Necessities
Anti-Snag Zipper Keeps Bag Fabric Out Of Zipper
Off-Side Partial Zipper For Drying And Ventilation
Long Wide Size Available For Larger Users

BEST BUDGET 3-SEASON BAG
This synthetic-fill bag may not be the lightest or the most compact sleeping bag on the market, but it will keep you warm in temperatures down to freezing, and it will get you on the trail without crushing your bank account. If you need a quality sleeping bag and you're not ready to lay out the coin for a premium down bag, or if you're looking at camping in wetter-than-usual conditions, the Marmot Trestles 30 makes an excellent compromise choice. With three sizes available in the men's version and two in the women's, there are enough options to assure everyone a perfect fit in an affordable 3-season bag.
Marmot Never Summer
Specs
Insulation

:

Duck Down

Length

:

72 inches

Weight

:

3 lbs. 3 oz. (Heavy)

Shape

:

Mummy

Temperature Rating

:

0 degrees (F)

Stuff Sack Size

:

8.5 x 18 inches
Features
Water Repellent Finish (to keep you dry even in damp conditions)
Draft Tube Backs Zipper To Keep Cold Air Out
Multi-Baffle Hood For Head Warmth
Heater Pocket In Footbox (heater packets sold separately)

BEST BUDGET WINTER BAG
"Budget" is a relative term here. The Never Summer is by no means cheap, but it's about as cheap as you can get for a true winter sleeping bag that will keep you warm when the temperature dives well below freezing. A water-repellent shell keeps the insulation dry, a down-filled draft tube behind the zipper keeps cold air from leaking through the zipper slot, and the baffles (the pockets that hold the down in place) in the hood are optimized to keep you warm even when the hood is drawn tight. There's even a pocket in the foot area for a heating packet, the winter camping equivalent of a hot water bottle for your bed. If you're going to camp in the winter, you need the right gear, and choosing this bag let's you get started cold weather camping without having to choose between poverty and hypothermia!
Marmot Always Summer
Specs
Insulation

:

Duck Down

Length

:

72 inches

Weight

:

1 lb. 10.8 oz. (Lightweight)

Shape

:

Mummy

Temperature Rating

:

40 degrees (F)

Stuff Sack Size

:

7 x 14 inches
Features
Anti-Snag Zipper Keeps Bag Fabric Out Of The Zipper
Wrap-Around Footbox Adds Space and Warmth
Multi-Baffled Hood For Head Warmth
Internal Stash Pocket

BEST SUMMER BAG
This light, compact bag is a great value in a first-class piece of gear and is warm enough to stretch into late spring and early fall, especially if you're a warm sleeper. Marmot's classic summer bag has a premium set of features, like an anti-snag zipper to keep the bag fabric from being sucked into the zipper, a foot area that adds space without sacrificing warmth, and hood baffles (the pockets that hold the down in place) designed to insulate even when drawn tight. It also carries a surprisingly reasonable price tag, making it a top choice for campers who prefer warm-weather adventures.
REI Co-op Magma
Specs
Insulation

:

Goose Down

Length

:

72 inches

Weight

:

1 lb. 12.2 oz. (Lightweight)

Shape

:

Mummy

Temperature Rating

:

16 degrees (F)

Stuff Sack Size

:

7 x 14 inches
Features
Plenty Of Knee And Foot Space
Anti-Snag Zipper Keeps Fabric From Getting Caught In The Zipper
Contoured Hood With Pillow Space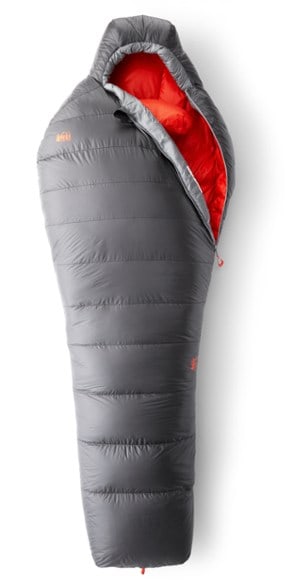 BEST 3 SEASON BAG
The Magma 15 has the highest warmth-to-weight ratio in the REI lineup, coming in at only 1 lb 12.2 oz for the regular size for a bag rated down to 16 degrees F. With high-quality water-resistant down and a host of premium features, this bag is drawing top reviews as one of the best all-around backpacking bags on the market. Pair this bag with a good quality insulating pad and it will keep you warm at well below freezing temperatures while adding only marginally more weight and bulk to your load than a good summer bag.
THINGS TO CONSIDER WHEN BUYING A SLEEPING BAG FOR BACKPACKING
You want your sleeping bag to be light, compact, comfortable, and warm. Check the weight, and look at the stuff sack size to see how much space the bag will take up in your pack. Most backpackers prefer the narrow mummy or semi-mummy shape, which is snug but keeps bags lighter and more compact. Down is the insulation of choice, though backpackers on lower budgets or those who are often in wet conditions may prefer a synthetic fill. Beyond that, our choices are narrowed down by our budgets and by the conditions in which we intend to use our equipment.
TEMPERATURE RATINGS
An "ISO" or "EN" temperature rating is based on a standardized test that assigns two numbers: a "comfort" rating and a "lower limit" rating. If you see two figures, the bag has probably been ISO or EN tested. The testing is expensive, so many manufacturers just assign their own rating based on design and experience.
Temperature ratings are a general guideline, and actual performance will depend on the conditions, the pad you use, the clothes you wear, and how much warmth you need. People who are considered "warm sleepers" will want a warmer bag, those who are "cold sleepers" can push the rating more. Remember that it may get colder than you expect!
SEASONAL CLASSIFICATIONS
Most manufacturers classify bags in three brackets:
SUMMER BAGS are rated at 30 degrees (F) and above

THREE SEASON bags are rated from 15 to 39 degrees (F)

WINTER BAGS are rated below 15 degrees (F)
INSULATION TYPE
DOWN
Goose and duck down are durable, light, and can be repeatedly compressed and still expand to full volume after. Those qualities make them the preferred insulators for sleeping bags. There are several types of down typically listed in sleeping bag specs.
WATER REPELLENT DOWN
AKA water resistant down – this is down that is treated so that it absorbs less moisture. These treatments have made down more competitive with synthetics for wet weather camping.
SYNTHETIC INSULATION
Synthetic insulation in sleeping bags typically involves mats of polyester fibers, though most manufacturers use their own proprietary types. Synthetic insulation is heavier and less compact than down, but it is also less expensive, dries faster, and continues to insulate even when wet.
RESPONSIBLE DOWN STANDARD (RDS)
This is down has been sourced from suppliers who comply with animal treatment standards.
SLEEPING PADS
Your insulating pad is an integral part of your sleeping system. Most bags have limited insulating ability on the bottom, because your weight compresses the insulation. A good pad is essential, and many bag manufacturers use straps, pockets, or other arrangements to attach the bag to the pad and keep you from sliding off it. If you're looking for a pad to go with your new bag, check out our review of the best sleeping pads for backpacking.
ZIPPERS
Most sleeping bags close with a full-length zipper on one side, and some offer a partial off-side zipper to assist ventilation. Most bags can be ordered with a left-side or right-side zipper, depending on your preference, and many bags with opposing zippers can be zipped together to form a double bag. This feature is not available on all bags, so check if you plan to use it.
Anti-snag zippers are designed to prevent the fabric of the bag from getting stuck in the zipper, which is inconvenient and can damage the zipper or the fabric.
LEARN MORE
REI has an excellent guide to buying a backpacking sleeping bag, which explains many features in great detail. For a deeper discussion of temperature ratings, see this comprehensive guide from Therm-a-Rest.
FEATURES EXPLAINED
SHELL FABRICS
The shell is the fabric that holds the insulation in place. Many outer shells are now given water repellent treatments, while inner shells are given a soft texture for comfort. All shell fabrics are a compromise between weight and strength: you want it to be light, but you don't want to rip or puncture it!
FILL WEIGHT
Fill weight refers to the expansive quality of the down. 500 fill weight is the lowest typically used in sleeping bags, while high-end bags use the very expensive 800 to 900 fill weight down. Higher fill weight indicates higher quality down.
BAFFLES
Insulation is sewn into compartments called baffles, which keep the insulation in place and prevent cold spots. Manufacturers devote a great deal of design ingenuity to arranging baffles for the best performance.
SIZES
Most men's sleeping bags come in a 78 inch long and a 72 inch regular size. Most women's bags offer a 70 inch long and a 67 inch regular size. Some manufacturers use different sizes, and some may have additional lengths or extra wide sizes. Weight and bulk may vary with size.
DRAFT TUBE
Draft tubes are insulated pockets that close off the space behind the zipper to keep cold air from seeping in.
INSULATED COLLARS OR YOKES
These are insulation arrangements that close off the neck area to avoid heat loss.
STUFF SACK
Most manufacturers supply two bags: a compression sack that reduces the bag to its smallest possible volume for stowing in a backpack, and a storage sack that allows the bag to loft up and breathe. Storing the bag in the provided storage sack when not in use will extend its lifespan.
Some manufacturers quote stuff sack size in external dimensions (in inches), others in volume (usually in liters).
READ MORE
For more of our top hiking & backpacking gear recommendations, check out these popular articles: