Updated on January 1, 2021
Diving in the North Pacific conjures images of schooling sharks, dolphins and manta rays. This is the home of some of the world's best pelagic diving. Many of the dive sites are the product of millions of years of volcanic activity. Hundreds of miles from the mainland, most of them are only accessible by liveaboard.
Stark volcanic landscapes and deep blue water at Guadalupe Island and Socorro are home to prowling great white sharks and humpback whales. Cocos Island and Malpelo Island are hammerhead shark territory, while Hawaii and the Galápagos Islands add some color with coral reefs and a vibrant assortment of tropical fish. If you've ever wanted to dive with pelagics, then a North Pacific liveaboard trip is your dream holiday.
For more of our liveaboard recommendations, check out these popular articles: 
Caribbean |  Bahamas | Belize | Cuba | Turks & Caicos
North Pacific |  Galapagos | Guadalupe | Socorro | Cocos
South Pacific | Australia | Palau | Fiji | French Polynesia | PNG | Solomon Islands
South East Asia | Raja Ampat | Komodo | Similan | Tubbataha | Burma
Red Sea & Middle East | Egypt | Sudan | Oman | Djibouti
Indian Ocean | Maldives | Seychelles | Visayas | Truk Lagoon
WHY YOU'LL LOVE IT
PELAGICS: Cocos Island is famous for its hammerheads, Socorro for its manta rays, Malpelo and Guadalupe for their sharks and the Galápagos and Hawaii for all sorts of pelagics.
DIVERSITY OF MARINE LIFE: Charles Darwin marvelled at the biodiversity found in this area, where coral reefs, drop-offs and converging oceanic currents foster a rich variety of marine life.
VOLCANIC LANDSCAPES: The sites all have volcanic origins; at Socorro, Hawaii and the Galápagos Islands you can still witness ongoing volcanic activity.
WARM WATERS AND GOOD VISIBILITY: Apart from the currents, diving at these sites is a breeze, with warm, crystalline waters that offer an average of 100ft (30m) of visibility.
MAP OF THE AREA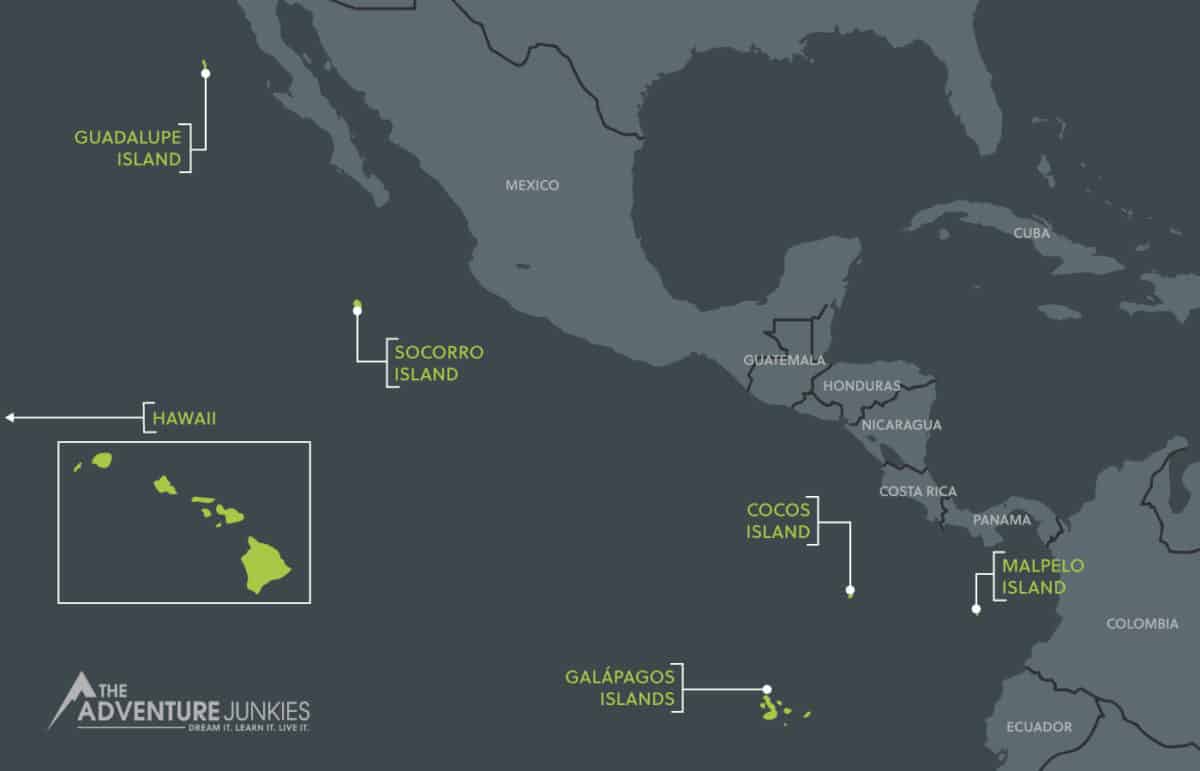 WHEN TO GO
APRIL TO NOVEMBER: This is generally the best season for diving in Malpelo and also in Hawaii, where waters are calmer and warmer and the visibility is at its best. May onwards is the best time for pelagics at Cocos Island, although it will be rainy and windy through July. Socorro's waters are rough and too warm for pelagics. The Galápagos will be cold, attracting penguins and mola mola. August to October – also hurricane season – offers the only window for liveaboard diving at Guadalupe; October can be rainy.
DECEMBER TO MARCH: This is the diving season at Socorro and the Galápagos, with calm waters, sunny skies and lots of pelagics. Malpelo at this time is usually cold, with strong currents. Cocos Island is dry and the waters are calm with good visibility, but there are no pelagics. Guadalupe is closed, and conditions in Hawaii are not optimal but do offer the chance to see humpbacks.
Cocos Island, Hawaii, Malpelo and the Galápagos can be dived year-round. Guadalupe does not operate any liveaboard trips between November and July, and most liveaboard operators also stay away from Socorro Island in June and July.
DESTINATION 1: COCOS ISLAND, COSTA RICA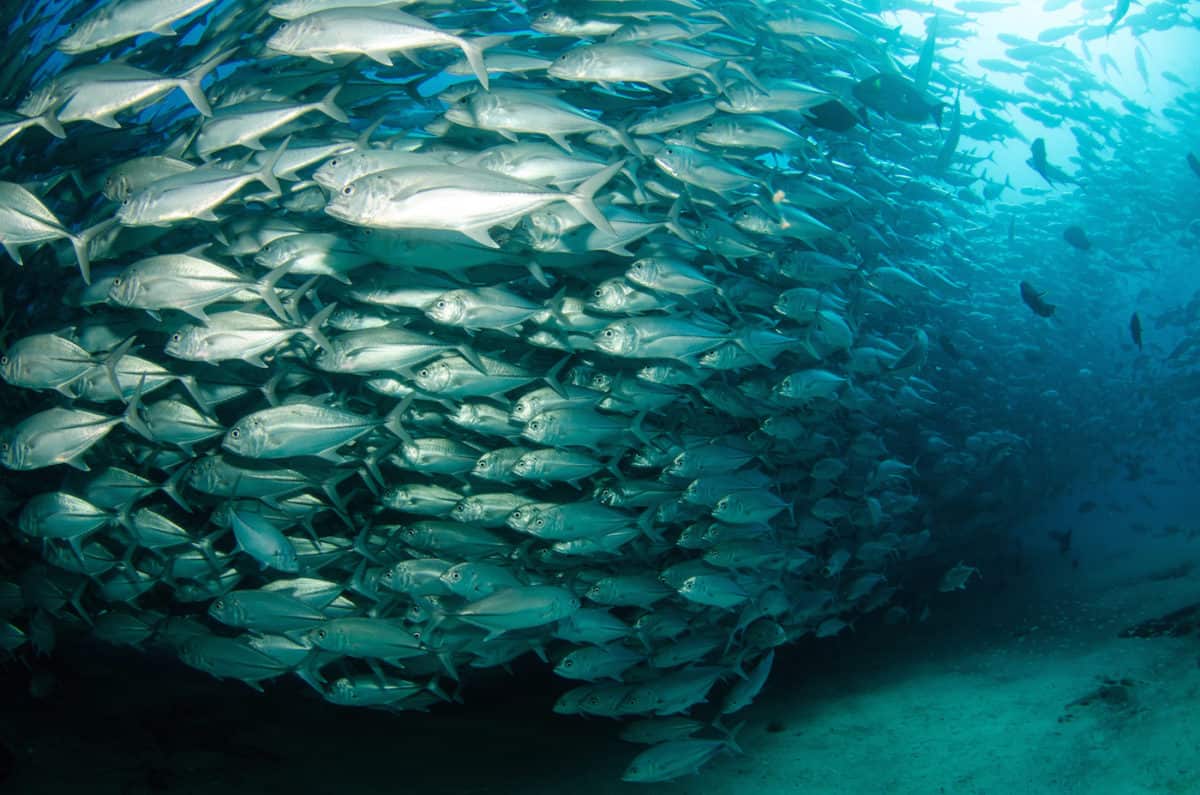 Photo by istockphoto.com/portfolio/hoatzinexp
Cocos Island is an extremely remote site located 342 miles (550km) off the coast of Costa Rica. The island is famous for its schools of scalloped hammerhead sharks that come to the cleaning stations. A national park and UNESCO World Heritage Site, the minuscule island is only inhabited by park rangers and can only be accessed with a Cocos Island liveaboard.
Divers who choose to brave the 36-hour crossing from the Costa Rican mainland won't be disappointed. Spectacular underwater scenery includes coral reefs as well as a seamount with boulders, pinnacles and drop-offs. The nutrient-rich waters attract all sorts of pelagics including turtles, blue marlins, several kinds of sharks and the enormous jumping Mobula rays. Due to strong currents, diving here is only for experts.
QUICK STATS
WHERE YOU GO FROM: Caldera Harbor Puntarenas, Costa Rica
PRICE RANGE: $4,500 – $6,000
DIFFICULTY: Advanced
LENGTH: 8 to 10 days
WATER TEMPERATURE: 75 to 84° F (24 to 29° C)
HIGHLIGHTS: Schooling hammerhead sharks, tiger sharks, occasional visits from blue whales and bottlenose dolphins
LIVEABOARD BOATS IN COCOS ISLAND, COSTA RICA
Click here to see the best Cocos Island liveaboard boats compared >>
DESTINATION 2: SOCORRO, MEXICO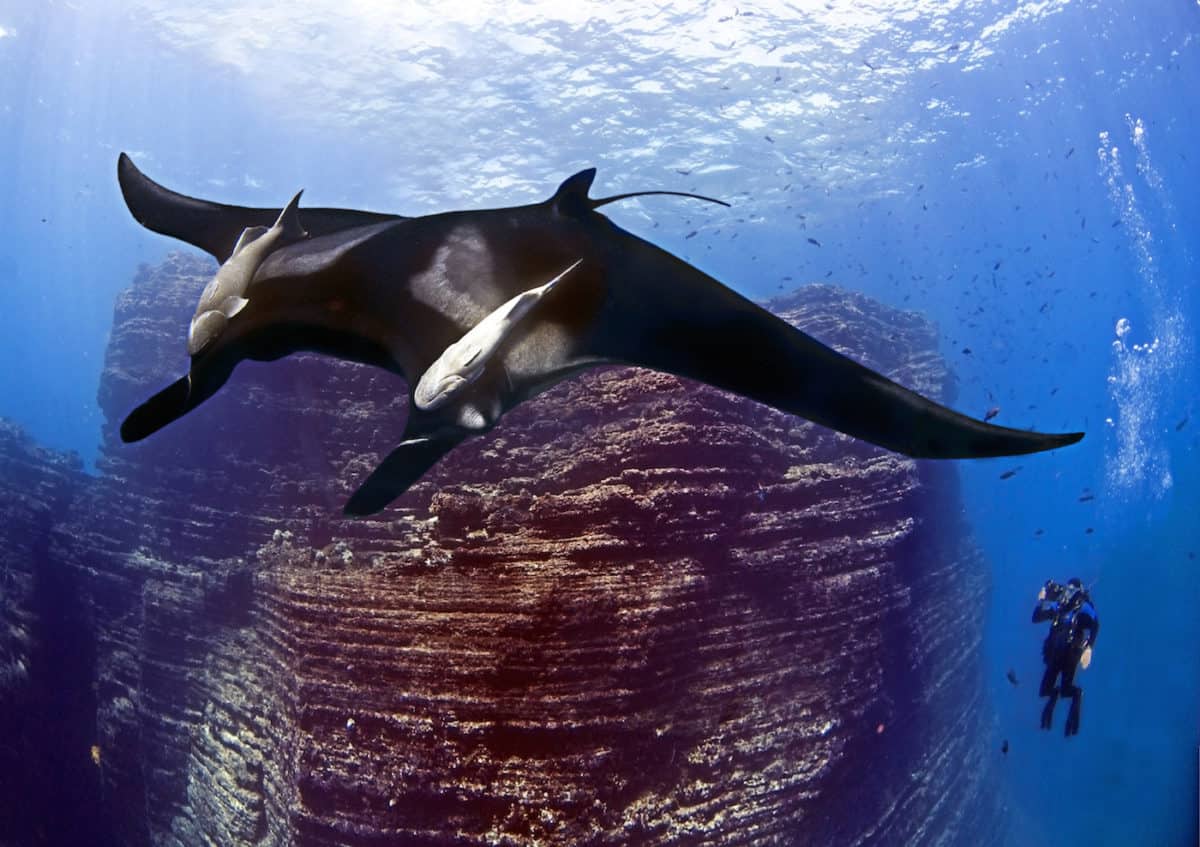 Photo by istockphoto.com/portfolio/eaglerayjoel
Socorro is the largest island in the Revillagigedo Archipelago, which lies 250 miles (400km) from Cabo San Lucas. Known for its friendly manta rays, this UNESCO World Heritage Site is one of the best diving sites in the world for pelagic lovers. The area is uninhabited except by two small naval bases and the only way to reach it is with a Socorro liveaboard.
It's not just the giant manta rays that make Socorro special. The still-active volcanic seascape with its lava tubes, steep drop-offs and mind-boggling depths attracts turtles, 20 species of sharks and dolphins in the hundreds. It's also one of few places where you can snorkel with the rare and threatened humpback whale. Currents can be unpredictable so Socorro Island is best dived by advanced divers only.
QUICK STATS
WHERE YOU GO FROM: San Jose del Cabo or Cabo San Lucas, Mexico
PRICE RANGE: $3,000 – $4,000
DIFFICULTY: Advanced
LENGTH: 8 to 10 days
WATER TEMPERATURE: 70 to 79° F (21 to 26° C)
HIGHLIGHTS: Friendly manta rays and dolphins that like to interact with divers
LIVEABOARD BOATS IN SOCORRO, MEXICO
Click here to see the best Socorro liveaboard boats compared >>
DESTINATION 3: MALPELO ISLAND, COLOMBIA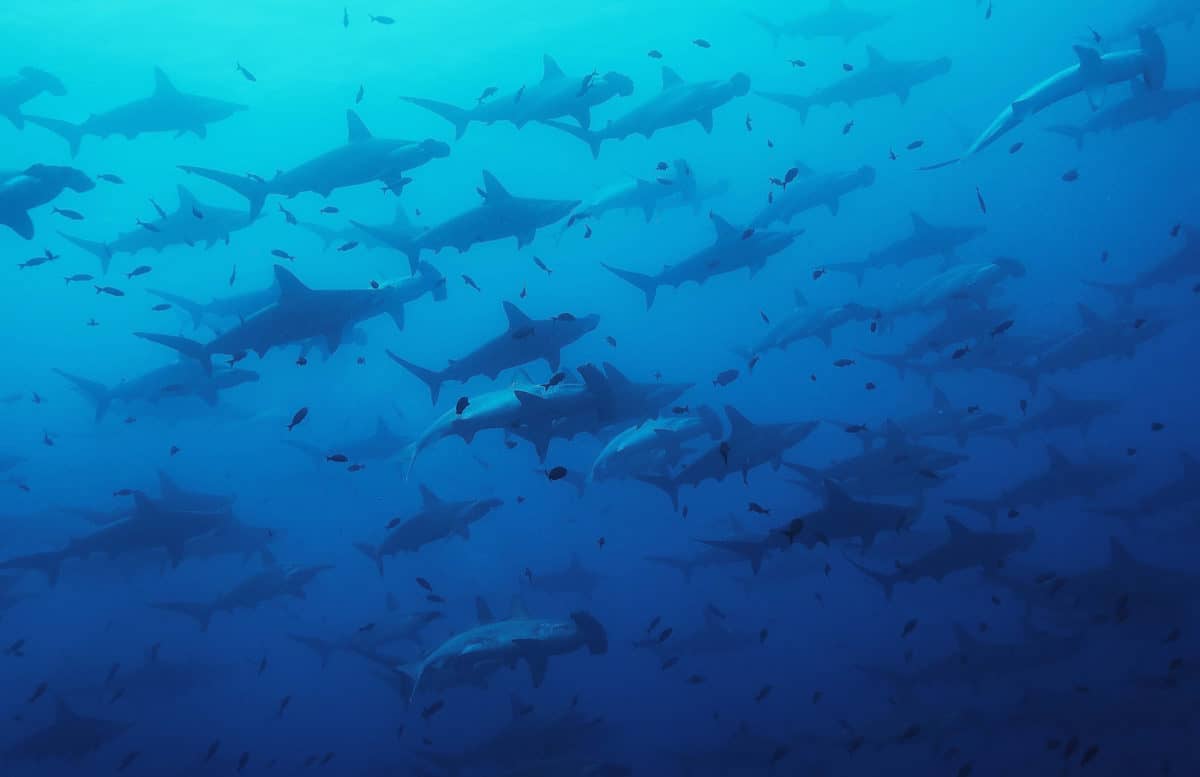 Photo by istockphoto.com/portfolio/montgomerygilchrist
Malpelo Island is the Pacific Ocean's best-kept secret, a UNESCO World Heritage Site that serves as a haven for threatened marine life of all kinds. Encouraged by the Colombian president's recent pledge to double the protected area, conservationists are hopeful about the state of Malpelo. Only one group of divers a day is allowed at this diving oasis, so with a Malpelo liveaboard you can be assured of a truly unique experience.
Stunning underwater tunnels, caves and walls at Malpelo descend to depths past 3000m. Strong currents that are great for drift diving bring in huge schools of hammerhead and silky sharks, barracudas, snappers and tuna. Get right up close to colossal Galápagos sharks and keep an eye out for the rare short-nosed ragged-toothed shark and the rosy-lipped batfish. This massive volcanic submarine ridge is deep-water diving at its finest.
QUICK STATS
WHERE YOU GO FROM: Buenaventura, Colombia
PRICE RANGE: $4,500 – $5,500
DIFFICULTY: Advanced
LENGTH: 11 to 14 days
WATER TEMPERATURE: 61° to 75° F (16 to 24° C)
HIGHLIGHTS: Impressive schools of hammerheads, free-swimming moray eels
DESTINATION 4: GALAPAGOS ISLANDS, ECUADOR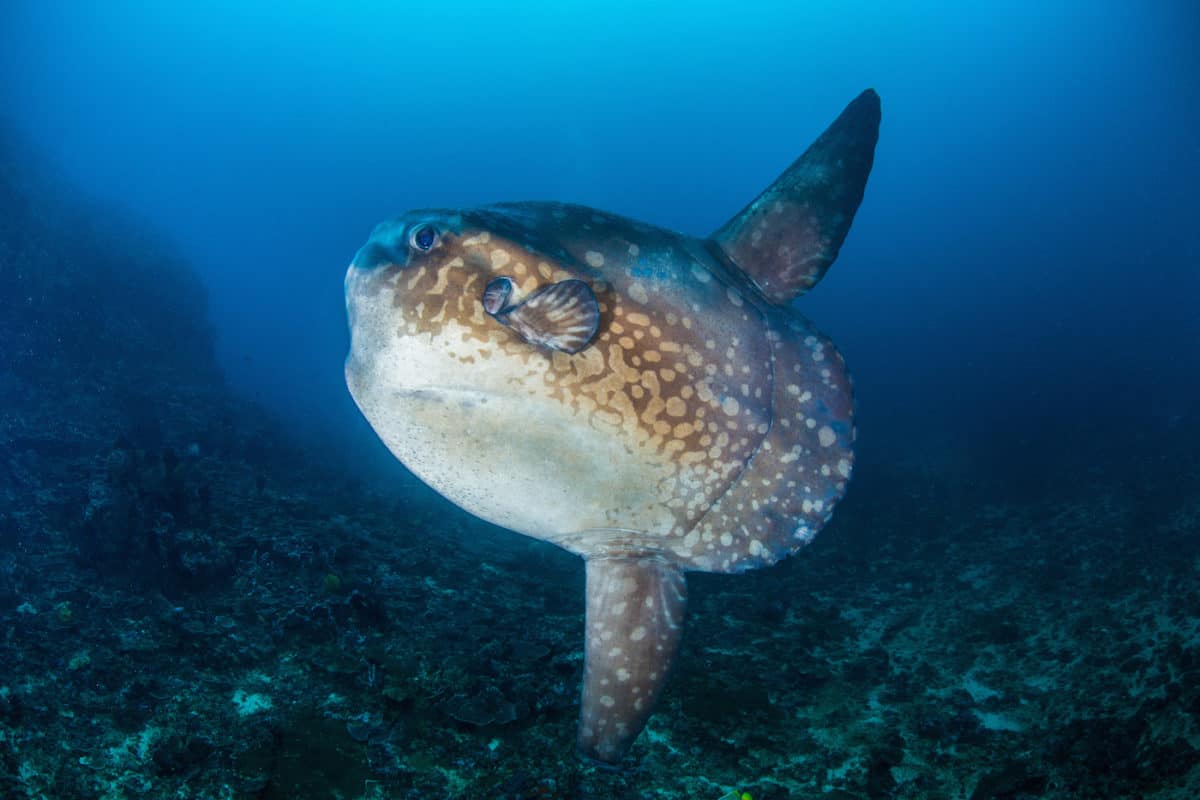 Photo by istockphoto.com/portfolio/sieniava
The Galápagos Islands are the place that inspired Charles Darwin's theory of evolution, an isolated cluster of islands right on the Equator where three ocean currents come together to create the perfect conditions for marine life. Located 600 miles (1000 km) off the coast of Ecuador, this UNESCO site boasts almost 3000 marine species, of which nearly 20% are found nowhere else. A Galápagos liveaboard trip is an essential part of any serious diver's list.
The recently-expanded Galápagos Marine Reserve is one of the largest on the planet. The varied underwater landscape coupled with the ongoing seismic and volcanic activity makes the islands very interesting to evolutionary scientists. The sheer diversity of marine life will astound even the most experienced divers. Under the water, you'll find mola mola, seahorses, mobula and manta rays, tuna, dolphins, whales and schooling hammerheads, but also sea lions, penguins, seals and the endemic diving iguanas. It's a dive trip not to be missed.
QUICK STATS
WHERE YOU GO FROM: Puerto Baquerizo Moreno or Santa Cruz, Ecuador
PRICE RANGE: $3,500 – $6,000
DIFFICULTY: Intermediate – advanced
LENGTH: 7 to 8 days
WATER TEMPERATURE: 70 to 82° F (21 to 28° C)
HIGHLIGHTS: Biodiverse location where Charles Darwin came up with his theory of evolution
LIVEABOARD BOATS IN GALAPAGOS ISLANDS, ECUADOR 
Click here to see the best Galapagos liveaboard boats compared >>
DESTINATION 5: GUADALUPE ISLAND, MEXICO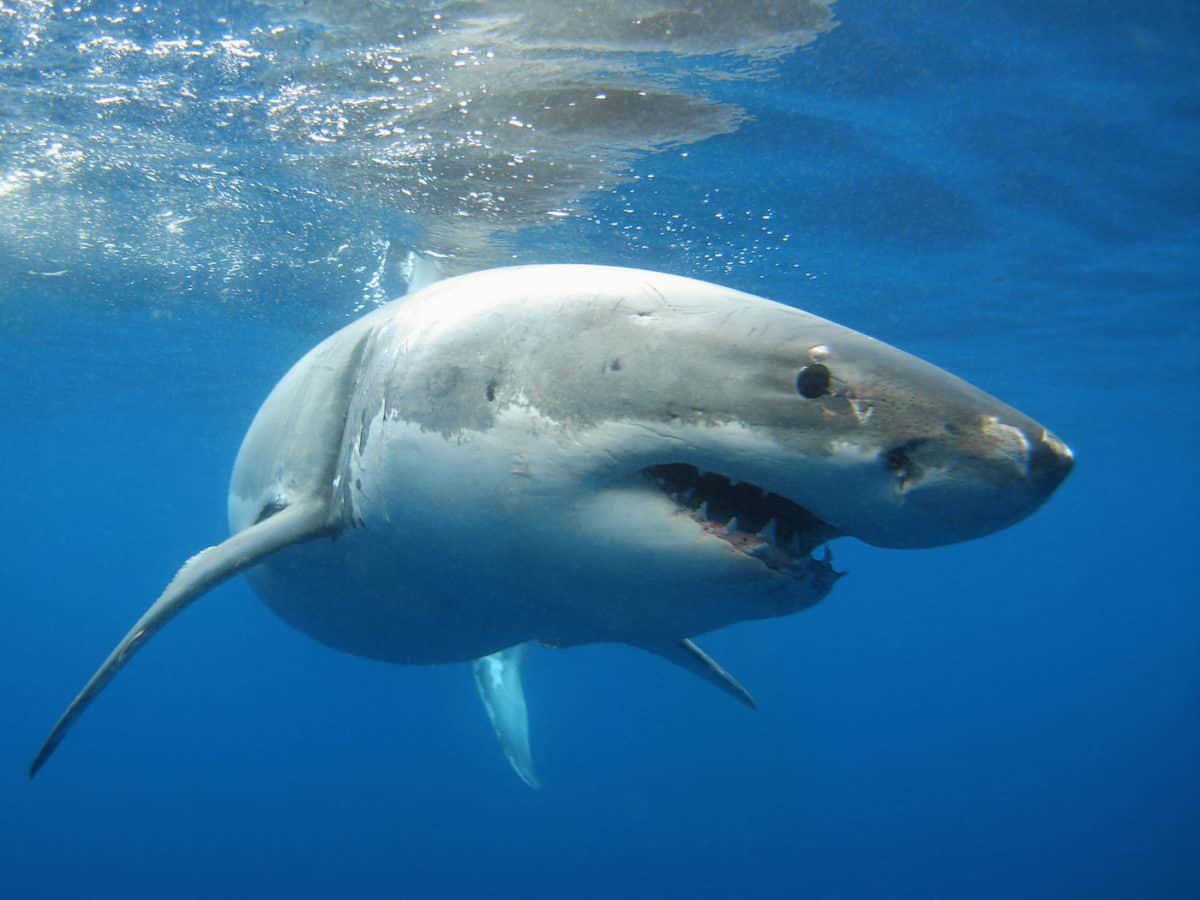 Photo by istockphoto.com/portfolio/whitepointer
World-famous for its great white sharks, Guadalupe Island is a small island 150 miles (240km) from the Baja California peninsula. Diving here is slightly unorthodox, as for safety reasons it only takes place in cages. Your Guadalupe liveaboard operator will lower you into the water at strategic points so you can see these majestic creatures from up close.
The island is actually the tip of an extinct volcano, the sides of which plunge steeply into the open water. The sharks are by far the main attraction, but the area also has colonies of fur and elephant seals, amberjacks and whales. Non-divers will be pleased to hear that they can join in the fun from surface-level cages that use air tubes instead of scuba equipment. If you're a shark lover then Guadalupe Island is definitely for you!
QUICK STATS
WHERE YOU GO FROM: Ensenada, Mexico or San Diego, United States
PRICE RANGE: $3,000 – $3,500
DIFFICULTY: Beginner
LENGTH: 4 to 5 days
WATER TEMPERATURE: 66 to 75° F (19 to 24° C)
HIGHLIGHTS: Cage diving with great white sharks
LIVEABOARD BOATS IN GUADALUPE ISLAND, MEXICO
Click here to see the best Guadalupe liveaboard boats compared >>
DESTINATION 6: HAWAII, USA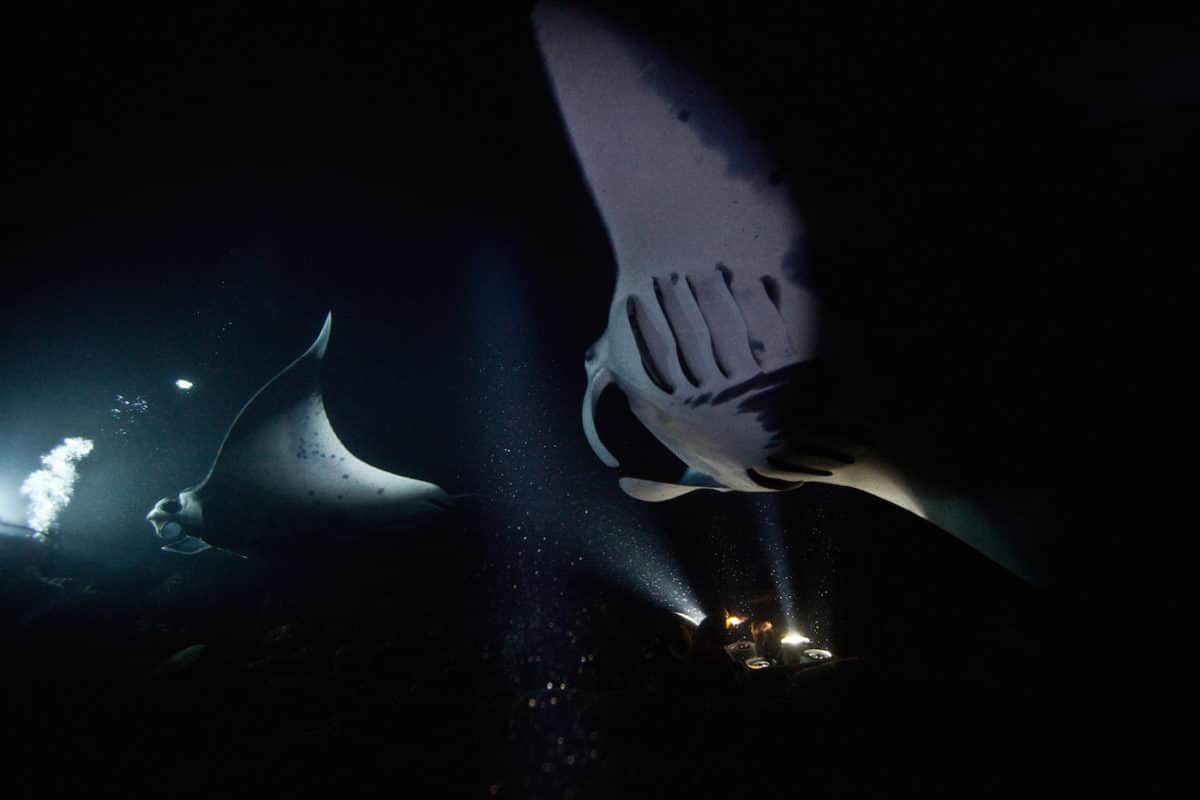 Photo by istockphoto.com/portfolio/coobrien
Hawaii is a volcanic archipelago in the Pacific Ocean, several thousand miles west of the US mainland. The expansive islands are a good place for beginner divers, with shallow dive sites, weak currents and excellent visibility. A Hawaii liveaboard can take you to dive sites that are otherwise inaccessible.
Beautiful coral reefs and grottos at Hawaii are home to butterfly fish, frogfish and myriads of other colorful species. Meanwhile, the Kīlauea volcano sends lava gurgling into the ocean where pelagics such as whale sharks, sea turtles, humpback whales, turtles and spinner dolphins play in the open water. Divers interested in specialty diving are spoiled for choice – you can go wreck diving, night diving with manta rays, drift diving for macro life or cage diving with sharks.
QUICK STATS
WHERE YOU GO FROM: Kailua Kona, USA
PRICE RANGE: $2,000 – $2,500
DIFFICULTY: Beginner
LENGTH: 7 days
WATER TEMPERATURE: 75 to 80° F (24 to 27° C)
HIGHLIGHTS: Wide variety of marine life and seascape, good for building specialty diving skills
LIVEABOARD BOATS IN HAWAII, USA